Cisco Employee
Mark as New

Bookmark

Subscribe

Mute

Email to a Friend
same L3 out on 2 different Leafs.
Hello Experts,
As I am continue testing ACI I ran into another interesting issue.
I have created one L3out that I apply to 2 leafs. (Leaf101 and 102) via different logical interfaces.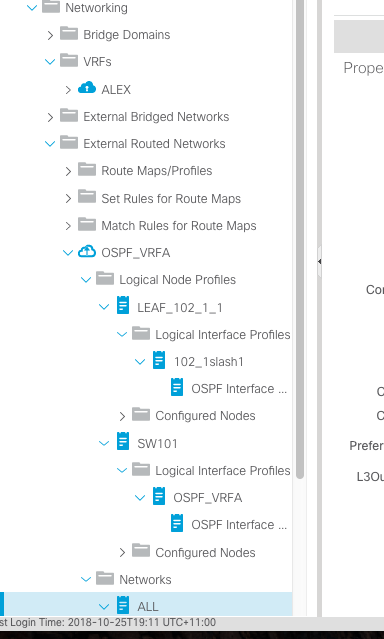 I learn routes on the routes connected on the interfaces. I can even ping between the routers loopbacks IF the VRF is Unenforced. As soon as I click enforce VRF botton I can no longer ping between the interfaces.
So I know that there is something wrong with contract. I have created contract ICMP whhich allows ICMP and applyed it to L3out consume and provide as well as to the associated VRF ALEX as BOTH provided AND consumed contract and still no luck.
Basically I applyed ICMP allowed contract everywhere it is possible but still pings don't go through,
As soon as I unenforce the assosiated VRF pings work.
Could you tell me please how can I verify if I applyed the contracts correctly.
Moreover, Do I even have to apply contract between different interfaces of THE SAME L3OUT instance?