Beginner
Mark as New

Bookmark

Subscribe

Mute

Email to a Friend
How to configure source and destination IPs in a filter for a contract in aci apic as we used to do in access-lists?
2 ACCEPTED SOLUTIONS
Cisco Employee
Mark as New

Bookmark

Subscribe

Mute

Email to a Friend
You can use
Microsegmentation with Cisco ACI
http://www.cisco.com/c/en/us/td/docs/switches/datacenter/aci/apic/sw/1-x/virtualization/b_ACI_Virtualization_Guide_1_2_2x/b_ACI_Virtualization_Guide_1_2_2x_chapter_0100.pdf

For example:
------------
dhcp3-epg25.101
Microsegmentation EPG
IP-192.2.25.101
dhcp3-epg27.105
Microsegmentation EPG
IP-192.2.27.105
and then use an exclusive contract between the two devices.
NOTE: Use of VzAny contracts for the VRF can overide the microseg contracts and produce unexpected behavior.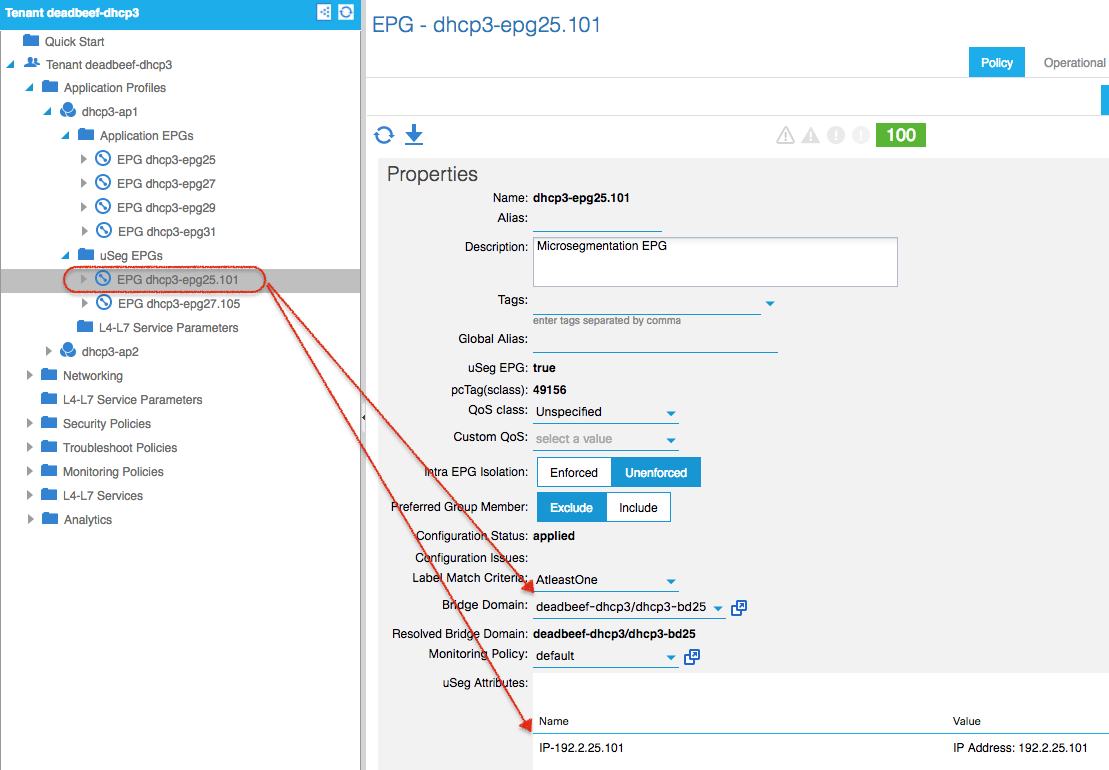 Cisco Employee
Mark as New

Bookmark

Subscribe

Mute

Email to a Friend
Microsegmentation (uSeg) is an option, but it doesn't sound like this is what you really need. uSeg acts as more of an "attribute-based" EPG. You define criterion for matching Endpoints and "move" then automatically to a new EPG from their base EPG. You still need to define contracts between uSeg EPGs & any other EPG the EPs need to communicate with. This is good in many virtual environments where you can enforce EPG classification without having to modify the virtual endpoints port group assignment.
From the sounds of it, your EPG design needs to be more granular. If you require specific restrictions between EPG-A & EPG-B for a subset of Endpoints - then you should re-think how your EPGs are setup. The more granular you make then, the more control & flexibility you'll have. uSeg is not the best solution to accomplish this in my opinion and I wouldn't over-complicate your design with this feature & your requirements.
Robert