Highlighted
Beginner
Mark as New

Bookmark

Subscribe

Mute

Email to a Friend
Houston, we have a problem!
As reported before, almost all event logs are highly incomplete, and it's very hard to get an immediate idea what kind of device caused the event:
Ok, this happened around the update to drop 5 - but it's a wonderul example on the (sorry to say) mostly useless infromation here in the event list. Fun enough, the similar stuff is repeated in the management summary reports, too.
Mandatory infomation in an event viewer is:
A. To immediate identify the device:
1. Hostname
2. IP Address
3. Device Type
4. Location, ... where available
B. Event details:
"Firmware was upgraded on the device." - interesting...but useless! What was the old firmware version? New firmware version? What has triggered the firmware update?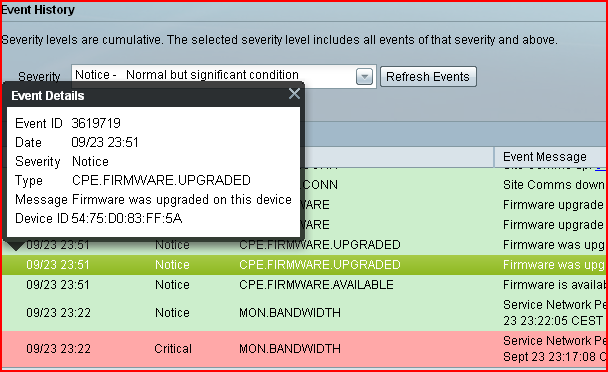 Device ID 54:75:0D:nn:nn:nn ... A MAC address might be very useful for uniquely identifiying a device interface in a network, but this is the least useful (not to say useless) information to identify a device to a human, sitting sosmewhere on the Internet.
Remember: We have no simple way to search for the Device ID (nor antyhing else...) in the Dashboard nor locate it in the Topology map. Locate a MAC address in an environment forh 50, 100, or more devices? Sort the Dashbord list on the device ID, and use your eyes - or copy the Device ID, and put it to a filter, and click apply. By far to much work, for simple data readily available in the cloud.
Not even the browser based text find (CTRL-F) works - Yes: The only advantage of Flex/Flash: The generated output can look nice. But for a Web application, it's rubbish. I hope Cisco makes us of Web 2.0 / Ajax /HTML5 technologies instead in a next drop.
-Kurt.