Options
Mark as New

Mark as Read

Bookmark

Subscribe

We are pleased to announce the launch of the Cisco Support Community's upgrade to the Jive 4.5 platform. We are confident that this launch will provide an enhanced experience for all our users.
Thanks for your patience during this weekend's downtime.
This release is not just a minor enhancement release. We've added numerous new features based on feedback from YOU.
Here's a highlight of a some of the high-impact features.
Improved knowledgebase through Question and Answer Pairing: The correct answer to a question is now featured at the top of the discussion, along with links to view it in context

Enhanced content creation and consumption: Improved Rich Text editor functions, enhanced tagging, pagination and RSS capabilities

Improved Performance : New and improved Caching to improve page load times

Enhanced Access control and Administrative capabilities: A more granular level of control across content and functions for better manageability, access and administration

Accessibility Support: Improved support for Screen readers around content refresh and notification
Some of the New Features and Functions to look for include enhancements to:
Profiles (including a new Profile Privacy feature)

Discussions

Projects

Tagging

Ratings

Places

Login & registration enhancements

Accessibility

Rich Text Editor Functions

As well as dramatically improved caching, and a lot more.
CURRENT Known Issues this Upgrade has that we are feverishly working on correcting:
1. When replying to a post in IE8 an error message is displayed even though the reply is posted.
2. In Discussions, a legend widget that appears on the right side of the page that needs to be removed.
3. Use the Advanced Editor when creating Documents, Starting Discussions.
We hope you welcome these long-awaited enhancements and you will continue to provide us feedback as well as reporting issue you may encounter.
For any feedback or questions you may have, please send email to supportforums-info@cisco.com
Thank you very much for your continued participation and contributions to the Cisco Support Community!
NEW! Correct Answers will now be floated up under the original Question...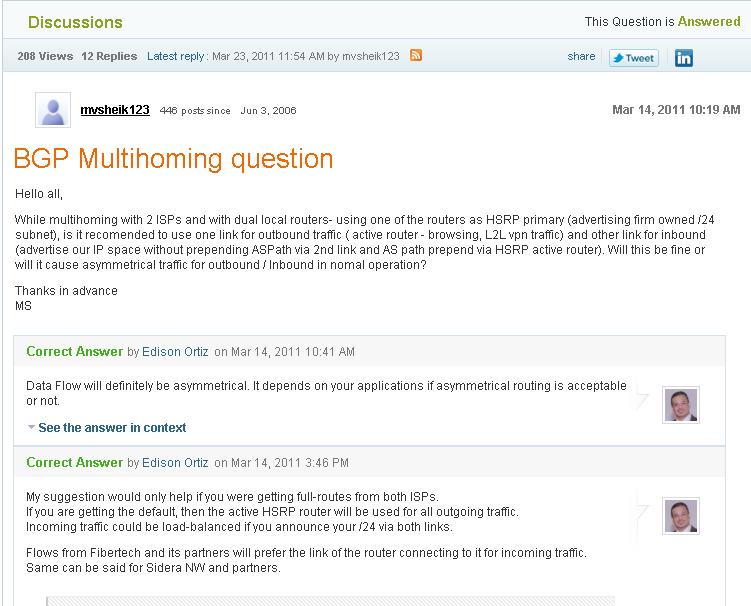 Recent activity widget can be filtered by categories and tags...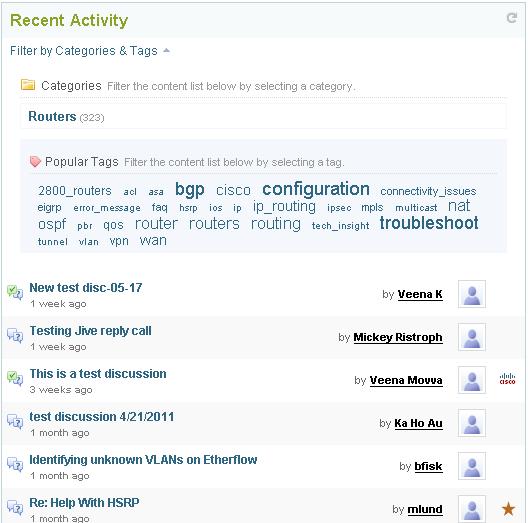 6 Comments
You must be a registered user to add a comment. If you've already registered, sign in. Otherwise, register and sign in.