Options
Mark as New

Mark as Read

Bookmark

Subscribe
They said it couldn't be done, it's unprecedented. However, in the deep recesses of Cisco labs were a small team of mad scientists. Doors were locked, keys were thrown away, the team was left with nothing more than a cupboard of microwaveable popcorn and an endless supply of cheap coffee. They obsessed over a project codenamed CTS-A. "CTS-A, CTS-A" they were heard murmuring over and over again. Within the confines of this small room the scientists were heard excitedly exclaiming such things as "we can make it better" and "the droid needs more power, it needs to be social, it HAS to support different types of attachments"! Day after day they continued to toil away in a seemingly endless endeavor to bring their mad vision to fruition.
Pretty soon word started to spread across the kingdom. What were these scientist up to? What was this creation they have spent so long working on? Will we ever see it?
Over time these scientist and their insane project were forgotten, that is until one stormy night. Some say it was on this night that the scientist found the spark of life for their product through something involving a metallic rod and a lightning bolt. That same night commotion was heard in the labs with the scientist chanting in unison "it's alive, it's ALIVE!" with a fanatical laugh that went something like MUahahahaHA!!
The next day the storm finally subsided. Through the clouds peaked a few sunrays casting it's light in front of the lab doors lighting a path forward into the land. The doors opened and from it emerged the creation in all it's glory. The CTS-A otherwise known as the Cisco Technical Support Android app. It emerged upon the land to share it's power with the population. The CTS-A was finally here and it stood ready to serve the people. It was designed from the ground up to provide better usability, find solutions to troubleshooting issues anytime and anywhere, provide the latest news and technical information via feeds, podcasts and videos, and be social with integration with Facebook, Twitter, and LinkedIn. It was finally here and it was good.
What became of the scientists, no one knows. Some say they are still in their lab working on something even bigger waiting for the day their next creation can be unveiled.
----------------------------------------------------------------------------------------------------------------------------------------------------------------------------
A message from the mad scientists: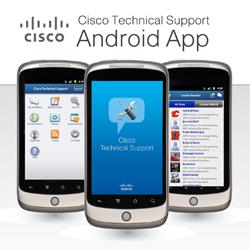 Now that the Cisco Technical Support Android app is available we would encourage you to download the app on your Android device by clicking on this link or by going to Google Play and searching for "Cisco Technical Support". We would also encourage you to join our support community where you will have access to technical support content as well as stay up to date on our mobile releases.
2 Comments
You must be a registered user to add a comment. If you've already registered, sign in. Otherwise, register and sign in.