Community Manager
Mark as New

Mark as Read

Bookmark

Subscribe

Email to a Friend
As you might know, there is the Cisco Community Labels Cleanup Project under way. To avoid spamming you and filling your inboxes with unnecessary emails, we've turned off email notifications across the Community while the label changes are in progress. The reason is that anytime content is updated, including label changes, an email notification is sent to subscribers. As part of the labels updates, massive amount of content will be relabeled in the next couple of weeks.
We learned during the Cisco Support Community and Marketing Communities merge last July that back-end changes like this trigger a staggering amount of email notifications.
We understand that some of you rely on email notifications in your day-to-day interactions in the Community and hope this won't impact your activity too much in the time it takes to complete this project. We think the benefit of turning off notifications outweighs the risk of annoying you with a flood of emails.
The good news is that you can still use web notifications. The easiest way to see all your Web notifications is to click on the bell icon on the top right of the page.
This will take you to the notifications page where you can see all the notifications for your subscriptions. The page looks like this: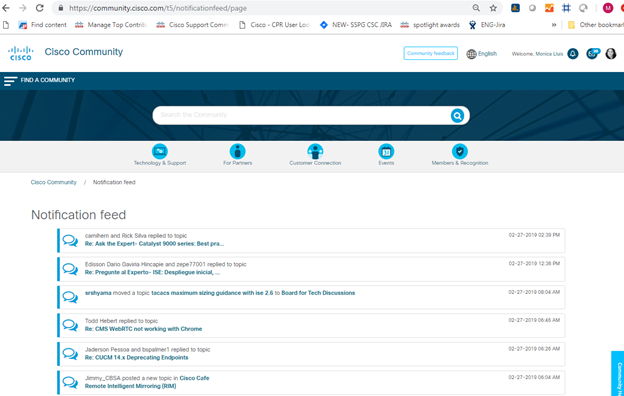 If you want to change your subscriptions setting, you can go to click on your avatar and click "My subscriptions"
Email notifications will be disabled from March 1st to March 22nd, 2019.
Learn more about the Labels Cleanup project here. If you have any questions, email us at cisco-community@external.cisco.com.
1 Comment