Options
Mark as New

Mark as Read

Bookmark

Subscribe
For part I in this series, click here.
For part III in this series, click here.
As we finalize the new Cisco Support Community site, we wanted to share what you can expect in the next few days and after the launch on August 21, 2017.
New ratings system
In the new Cisco Support Community, 5-star ratings are being retired. Instead, users will have the option to give a "helpful" vote on discussions, replies, and documents.
When you click helpful, the recipient will receive 5 helpful points.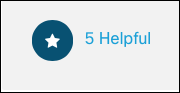 There are several reasons for this change. First, we found that the majority of ratings were 5-stars in the old system. And second, we researched and found that most of the technical forums in the industry are using or moving to a simplified system. In order to keep some parity, though, with the way you've been earning points, we chose to give 5 helpful votes instead of 1. Otherwise, it will take a lot longer for users to reach a new ranking! And we wanted to keep the pace of earning points as close as possible to the previous way.
Any helpful votes given by employees, moderators, and community managers will only be shown as 1 helpful vote. This is to give priority to peer feedback within the community. (We will revisit this piece due to feedback from the community.)
New leaderboards
You'll see new leaderboards when we launch the new site. Instead of a single points leaderboard, we've broken activity into two leaderboards: one for accepted solutions (previously "Correct Answers") and one for helpful votes. (Please note that we have used test data for this example.)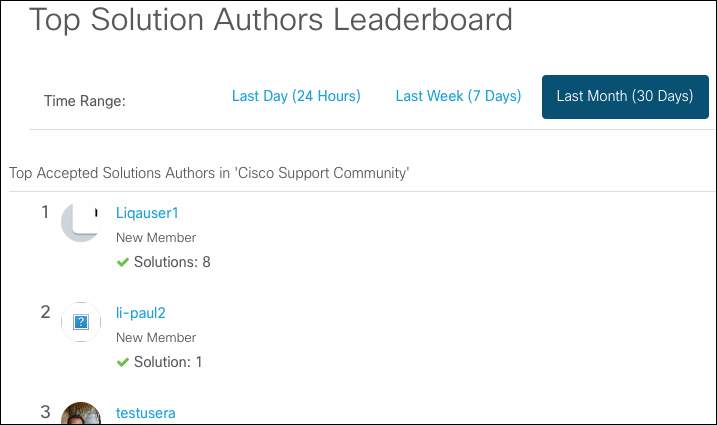 This gives more users the chance to be recognized for their contributions to the community: for solutions, but also for being helpful to other community members.
You may be wondering how this contributes to the star-rankings for each person, and we'll explain that next.
You can view the leaderboards via the "Experts" section of the global navigation:

Points leaderboard
You may notice the absence of a points leaderboard, but rest assured we are still assigning points. The emphasis will be on solutions and helpful votes, but in the background ranking formulas, we are still assigning 5 points for accepted solutions so that you'll earn ranks at a similar speed. While you'll see 1 accepted solution on the leaderboard, you are receiving 5 points for each. Helpful votes will be assigned 5 points up front and you'll see that each time you click the star next to a helpful vote. Endorsements (from the old site) will be credited as accepted solutions where possible, but if a reply was both a correct answer AND an endorsement, then you will only get 1 (migrated) solution credit (but 5 additional helpful votes for every endorsement). Each endorsement will be converted to 5 helpful votes, so 5 endorsements will be 25 helpful votes.
Example
Let's say you currently have 250 points, with 20 correct answers and 5 endorsements. On the new site, the solutions leaderboard will show ~25 solutions (the exception is if you had a reply that was a correct answer AND an endorsement - only one solution will be counted and you'll get additional helpful votes to make up for it). The helpful leaderboard will show 125 helpful votes (which is 250 - [(answers x 5 points) + (endorsements x 5 points)] ):
Most solutions: 25
Most helpful: 125
In the ranking formula, you will still get points equivalent to 125 + (25*5) = 250 (so you'll get the same ranking star)
Star rankings
You'll see that the ranks have changed very little on the new site -- we've updated the star icons just slightly, but you'll still see red, blue, green, super red, and so on. The rank you are in should be close to or equivalent with what you currently have. As always, with a migration there may be some minor discrepancies but we have worked hard to keep that minimal. The point ranges for each star ranking remains the same as before.
Current site: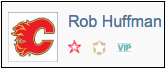 New site:
(Don't worry about the missing VIP symbol in this example - we'll have a VIP/Hall of Fame combo ready soon.)
Up next, part III
You must be a registered user to add a comment. If you've already registered, sign in. Otherwise, register and sign in.