Options
Mark as New

Mark as Read

Bookmark

Subscribe
For part I in this series, click here.
For part II in this series, click here.
As we finalize the new Cisco Support Community site, we wanted to share what you can expect in the next few days and after the launch on August 21, 2017.
New document navigation
In the current site, there are hundreds of discussion boards and document boards. To simplify navigation in the new site, we have updated documents to take advantage of labels instead of multiple boards. Here's how it works.
When you go to Network Infrastructure, for example, you will see the following:

The group of labels you see represent the sub-topics under Network Infrastructure. To find more specific topics, click on one of the labels:

Then you'll see documents related to that sub-topic. You can also subscribe to the label in order to get updates when new documents are created.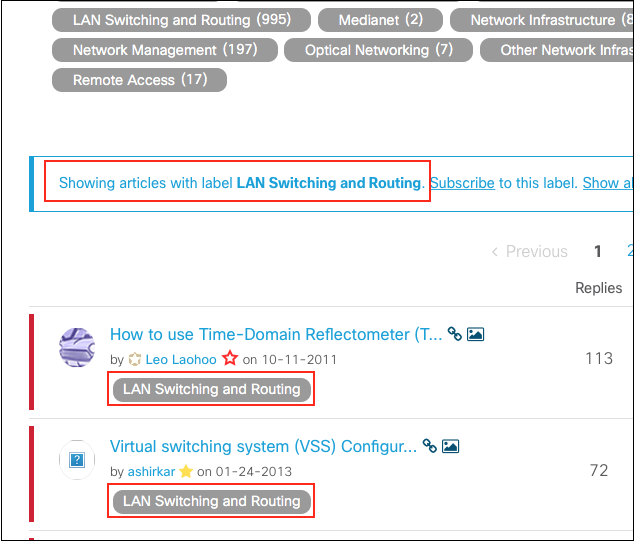 To see discussions on the same topic, click "Discussions" under "Related Content" in the right sidebar: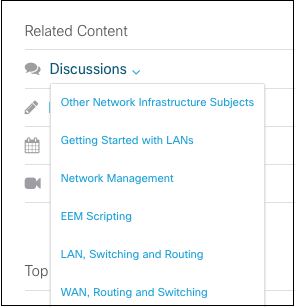 Badges
Badges for Hall of Fame, Spotlight, etc., will be updated after we go live. If you don't see a badge that you earned previously, don't worry! We'll have those up as soon as we can. We know you've worked hard to earn those badges, and we appreciate your contributions to Cisco Support Community.
Next week, post-launch, we'll feature more blog articles to help you get the most out of the new site. Please stay tuned!
7 Comments
You must be a registered user to add a comment. If you've already registered, sign in. Otherwise, register and sign in.