Options
Mark as New

Mark as Read

Bookmark

Subscribe
‎01-16-2015 01:41 PM - edited ‎07-24-2018 07:23 PM
This PowerTool script connects to one or more UCS domains querying it/them for hardware details on fabric interconnects, chassis, blades and rackmount servers. Using that information it generates an Excel spreadsheet with one sheet per UCS domain, presenting the inventory in the form of an outline. Besides model, part number, etc. it also lists for each element the serial number and firmware version.
There are a few command line parameters, the most important being '-show' which controls the level of detail you get to see. At level one you see only an overview of chassis's, blades and servers. At two the scripts adds CPUs and memory, then all the way up to five where you will get detailed info on each and every DIMM. The following example is at level three.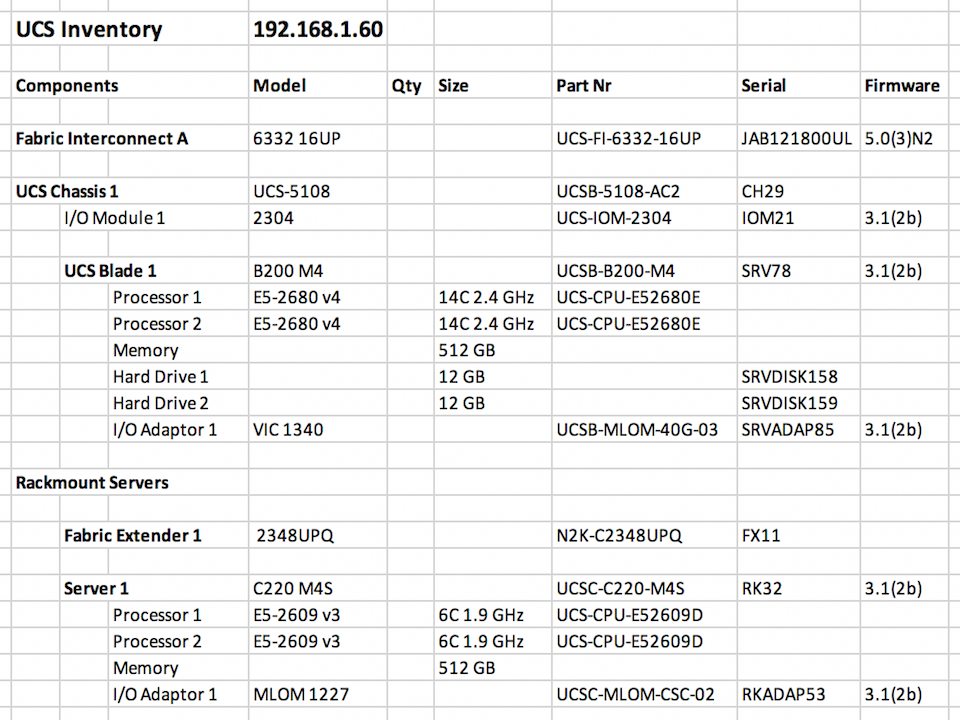 July 2018 update. Finally I put in the time to update the script from PowerTool version 1.X to 2.X, which also allows for PowerShell version 3. Sorry it took so long. Another big improvement is the change to using the UCS class "equipmentManufacturingDef" to get better naming and such. By doing that I could remove from the script all the manually created tables (which had to be maintained by hand) that were generating proper CPU names and similar stuff. The result is still not perfect but that is because the UCS DOM is after nine years more than a little messy.
Couple of technical things to be aware of. You need to have Microsoft Office installed on the system running the script. Also, don't install the script in C:\ because for some reason the script doesn't have write access there, put it instead in some user directory. This script will store the data retrieved from UCS Manager in a bunch of csv-files in "C:\Temp". Finally there is the '-v' flag with which you can follow the progress of the script.
A fork of this script will fetch an inventory of C-Series and E-Series servers that are not managed by UCS-Manager. You can get it at https://communities.cisco.com/docs/DOC-57125 .
Willem van Schaik
Calgary, Jan 2015, Jul 2018