Options
Mark as New

Bookmark

Subscribe

Mute
‎02-07-2021 06:59 AM
Hi
I will be building my first DNAC cluster soon. I've built the first node from the 2.1.2.5 iso. So is there any advantage to completing all application updates first then adding the next two nodes? Or do I do the initial build and create the cluster then apply the updates?
If I had a single node running for some time it's feasible that it could be at the latest version while any subsequent ones either come with what they are shipped with or are built from an iso but don't have the available platform updates prior to joining a cluster.
My question really is when I join a second and third node to a first cluster member do they go out to Cisco and download all the required updates or does the first node supply all the updated software to the subsequent nodes locally without going out to Cisco?
Also, regarding the Cluster link and its IP address/VIP address I've never been quite clear on this. When I build a single node I don't need to supply a gateway for the cluster link. I've also read that the cluster IP does not need to come from a routable subnet. However, when I build the node and look in System - System 360 the IP address used is from the cluster interface and also it's not the VIP.

Why would this IP be used if it comes from a subnet that is supposedly not required to be routed? I would have thought the Enterprise VIP would be a more appropriate address. The address above isn't even a VIP address. It is the address I assigned the Cluster link. The vip is .3 in each case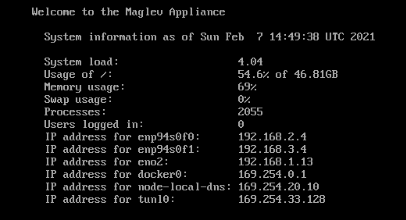 So when I start using DNAC and push out config for it to be used as the syslog, netflow and snmp receiver what address would it push out? Enterprise, cluster or one of their VIP addresses? In a single node test it seems to push out the Enterprise address. Would this change in a cluster to the Enterprise VIP?
Thanks for any input, Stuart.