Highlighted

Contributor
Mark as New

Bookmark

Subscribe

Mute

Email to a Friend
New Cisco DNA install/upgrade for customer
My customer recently asked me to try to get an old DNA server they had back up and running. It had sat for over a year and was never really set up. It was running 1.0, so I ended up just completely re-imaging it. I finally have it up and running on 1.3.3.3. The one thing the customer asked me to get it running for was to help automate firmware upgrades to their Nexus switches. They have about 50 Nexus switches in two data centers. Most of them are 9300s with four 9500s as cores. After all the work to get this server running again, I was shocked to find that the only Nexus switches support at 9500s and 7Ks? I'm posting because it seems incredible to me that as long as DNA Center has been around, and as popular at the Nexus 9200/9300 product line is that they are just unsupported. Someone please tell me I'm missing something. All I read about with DNAC is how "powerful" it is, how "flexible" it is. How all your device needs is a RESTful API written by Jason and even a Python can SWIM up and manage it. (Yes, I'm being factitious).
What is the point of talking about how DNA Center can manage "everything" if it can't even manage some of Cisco's most popular switches?
My question is; can anyone confirm that Cisco DNA is incapable of managing Nexus 9200/9300 series switches? And followup, who at Cisco thought that would be a good idea? I'm having lunch with Chuck Robbins next week and I thought the go-to-market plans for DNA Center would be a good thing to talk about.
Highlighted

Beginner
Mark as New

Bookmark

Subscribe

Mute

Email to a Friend
Check the compatibility matrix for what devices and software versions are compatible. Google "SDA Compatibility Matrix" for the most up to date version. I just did a quick glance and I only saw the Nexus 7700 being supported.
The last I mentioned supporting Nexus switches to the Cisco BU they stated that the majority of their SDA customers were using the 3k and 9k catalyst with a minor amount using Nexus therefore most of their development has been with the new catalyst platforms. That discussion was probably about 18 months ago so things may have changed. If they aren't supporting that now you can always add it to the Make a Wish and/or contact Cisco TAC.
HTH,
Chuck MCFadden
Highlighted
Cisco Employee
Mark as New

Bookmark

Subscribe

Mute

Email to a Friend
Hi Chuck

That googled compatibility matrix is a bit old - the Nexus 9500 are actually now supported (DNA Essentials only) - for some features as seen in the table below

Note - unfortunately the DNA Essentials license to permit this has not yet been updated in CCW.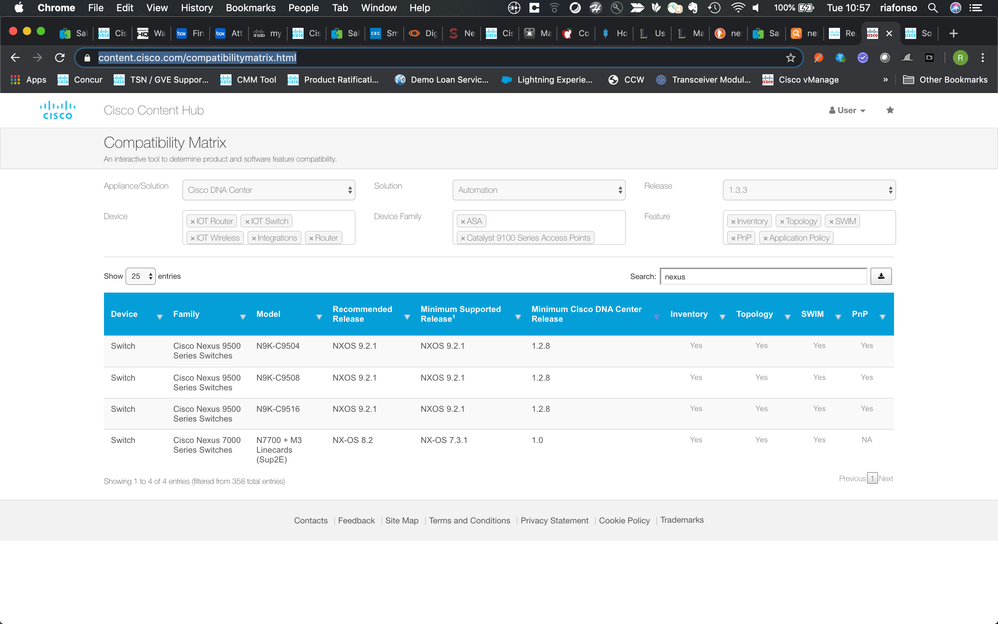 Kind Regards
Rick Afonso
Systems Engineer
Cisco Systems