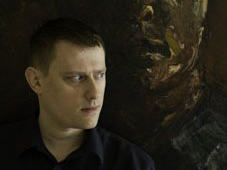 Contributor
Mark as New

Mark as Read

Bookmark

Subscribe

Email to a Friend
Cisco IOx continues to expand its capabilities for Fog Computing with the 1.2 release. For developers, this is an exciting release because one of the biggest features is the release of the Docker tooling support that allows developers to use a familiar approach to containerized deployment at the network edge. In addition to the existing flexible packaging approaches of Platform-as-a-Service, Container, and KVM applications, Docker adds another way to move your code into the fog. Many new improvements to Fog Director have also been built into this release. Beyond the scaling and security improvements, Fog Director officially exposes its API that allows the developer to access and integrate most Fog Director functionality. This is useful for tying your development workflow for IOx into a continuous integration process, building custom tooling, or integrating into other services you may need to utilize.
Let's look a little closer at what is new in Cisco IOx 1.2.
What is New?
Docker Tooling Support
Even though Docker Engine does not run on the IOx host, the new tooling allows IOx developers to quickly package a Docker image into an IOx-compatible application package. This means that you can take your existing Docker Repository instructions and, with some limitations, build a deployable application package for IOx.
Changes to ioxclient for Docker Support
To enable the Docker Tooling Support, the ioxclient has gained a new trick. To package up an application using the Docker tooling, a new ioxclient sub-command docker has been added. The normal ioxclient package command to package an application can been used with the docker command like this:
ioxclient docker package my-repository/my-image:latest /path/to/my/project
This command will allow a developer to package an existing Docker image as an IOx application. It combines an existing Docker image with the required package.yaml configuration in the project directory to package an IOx application.
Changes to Fog Director for Docker Support
Integrated into Fog Director in 1.2 is the ability to deploy an application as a Repository directly from a Docker Hub. The new ability to add directly from a Docker image is presented when importing an application.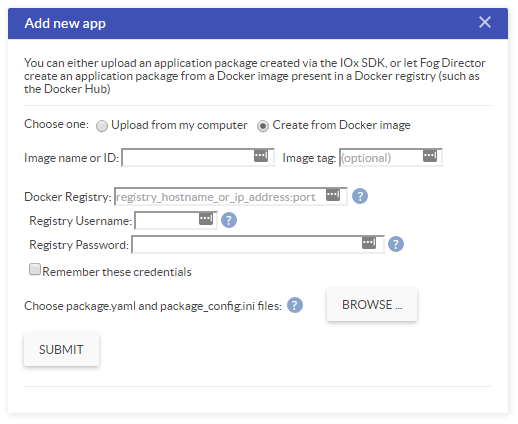 This is another great way to build a flexible an automated way of delivering applications at scale.
Fog Director
Cisco Fog Director, the interface for managing large numbers of IOx devices, has received many notable improvements in this release. For example, scaling improvements to Fog Director have bumped up the management support for 5000 concurrent devices. Additional security enhancements around RADIUS authenticated logging and VNC passwords was also included. Management improvements allowing action plans for failed application actions like life cycle changes was also included. Support for managing the registration/deregistration of Cisco device with the GE Predix Cloud has also been added via an extension.
For developers, a really interesting feature addition is the REST API for Fog Director. This API lets developers manage the application life cycle of Cisco IOx applications programmatically. Installing, managing, tagging, searching, and monitoring applications across thousands of devices is available via a common REST API endpoint. Here is a sample of some of the endpoints exposed by Fog Director:
api/v1/appmgr/devices
api/v1/appmgr/myapps
api/v1/appmgr/policy
api/v1/appmgr/tags
api/v1/appmgr/users
...
To access the documentation on your Fog Director instance, browse to https://YOUR_FOG_DIRECTOR_IP/swaggerui/ on that instance. A full description of the API, its uses, and how to use it can be found at https://developer.cisco.com/site/iox/documents/developer-guide.
Platforms
In addition to the functional changes provided by IOx 1.2, the number of supported devices is increasing. Support for LXC applications on the Cisco Industrial Ethernet 4000 Series Switch is a great new addition for the industrial IoT uses cases. Additionally, support for the Cisco UCS C220 platform is in Alpha, so expect to see it officially supported soon.
Beyond the Docker, Field Director, and platform features, many other smaller improvements and features have been added. You can try out these new changes in the DevNet Sandbox now and we encourage you to learn more from the links below.
More Information
Cisco IOx 1.2 Release Notes
http://www.cisco.com/c/en/us/td/docs/routers/access/800/software/guides/iox/release-notes/iox120rn.html
Cisco IOx Developer Portal
https://developer.cisco.com/site/iox
Cisco IOx Downloads
https://developer.cisco.com/site/iox/downloads
Cisco DevNet Sandbox
You must be a registered user to add a comment. If you've already registered, sign in. Otherwise, register and sign in.