Beginner
Mark as New

Mark as Read

Bookmark

Subscribe

Email to a Friend
We are on the second day of the Cisco Live Event. The frenzy is starting early in the morning. Since the Moscone convention center is spread across a few buildings and on a few different blocks, we have thousands of people going back and forth from building to building on very congested sidewalks. All the surrounding blocks and crossings are packed with Cisco Live folks.
The World of Solutions is busy with customers coming by during their breaks from either the Tech Clinics or Meet the Expert sessions or Keynotes or other classes. There is a lot going on, a lot to learn, a lot of new information to absorb but there is always time to have a bit of fun in between.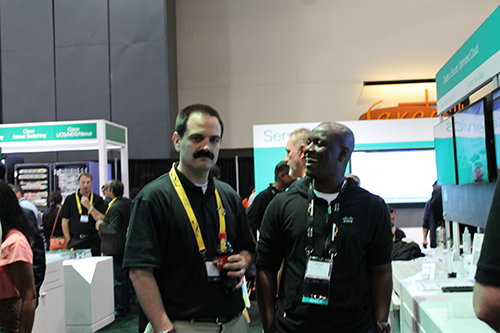 We demo our newly redesigned Cisco Support Community which is now on an open source platform. It has new collaborative features, it offers rich web experience across all mobile devices, it provides easy ways to find and connect with experts, and it offers the ability to connect and integrate your social information within the community. Many customers are already using the community but are not fully aware of all the new features. Some have been using it for quite some time and I manage to capture that on the camera with a quick interview.
Members of our team, Helena and Reddy are at the DevNet area where they have a lot of developers participating in the 24 hour Hackathon as well as other developer contests.
It's a very busy area to say the least! This is the first time an area is solely devoted to Developers! The DevNet zone is in another building – Moscone West.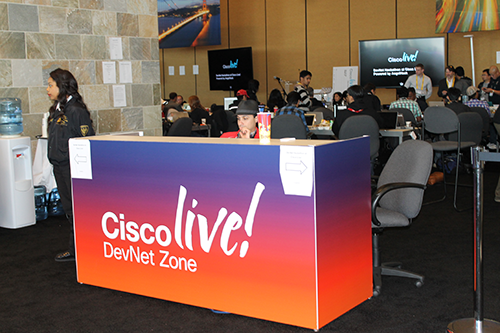 During the week 8000 visitors are hosted! By the end of the week 6000 online learning labs are completed as well as 11 new applications are developed! Over 150 hackers develop new apps using Cisco technologies and APIs. In the end $10,000 are awarded to the most compelling applications.
Every Cisco Live event is always entwined with what I eat and drink and with the meals I share with new and old colleagues and so the day ends having a fun dinner with my colleagues who are also working at the booth that day. It's a fun evening having some drinks for starters and then continuing with some Mexican food at a bistro. The food is delicious and the company is entertaining! It's great to be with my team members and talk and laugh over tasty food while we get to know each other better. Walking back to the hotel is helping me digest some of the food. Yes, I over indulge a bit – I always do at every single Cisco Live event!
Wednesday morning is here with another busy day and so is Thursday. We get to talk with more customers and partners and we get constructive feedback on our community and its programs. I recognize some customers from previous years and some recognize me and they stop by our booth to chat. Many have been using our community for years and these are the best resources for feedback.
I am delighted to meet with colleagues from the APJC Theater. I am very happy to meet them face-to-face and talk with them after spending years communicating with them virtually. The virtual world brings another dimension to our lives – one that enables us to collaborate with people cross functionally and across the globe. On that note I go around Cisco Live to see some of the other demos that our teams have very well prepared. I am fascinated with all the new technologies. I stop by some of the Telepresence demos to see how we optimize environments for 'face-to-face" virtual meeting experiences. I am particularly interested to see how today's classroom environment is once again capturing the virtual environment and brings people together. I also check out the clinical assistant via Telepresence. It's so amazing to see the IoE in practice across all the demos we have in the World of Solutions!
Thursday is a day where we are able to speak with more customers – people are trying to get as much information as possible before they leave the show. I find them more relaxed though and willing to spend more time at each demo area. I think they have attended a lot of sessions and on the last day they want to spend it at a slower pace.
Cisco Live officially ends on Thursday afternoon. I am content that the event is over successfully after meeting with many of our customers and partners, getting constructive feedback while having fun, bonding with my colleagues and already thinking about the next Cisco Live Event in Mexico!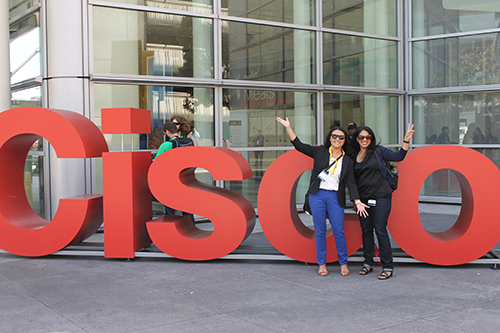 You must be a registered user to add a comment. If you've already registered, sign in. Otherwise, register and sign in.