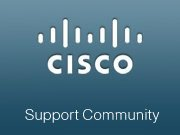 Community Manager
Mark as New

Mark as Read

Bookmark

Subscribe

Email to a Friend
This is a fun item picked up from blogs.cisco.com
The Dating Game: Finding the Right Network

Gareth Pettigrew | June 16, 2011 at 11:00 am PST
------------------------------------------------------------------------------------------------------------------------------------------------------
Do customers feel like contestants on The Dating Game when they're shopping around for the right network?
That was definitely the case for Lindsay — our fearless IT manager, bachelorette and star of The Networking Game. Like many of the bachelorettes on the classic 1960's game show, Lindsay doesn't pull any punches when interviewing the three candidates. Luckily for Lindsay, the bachelor networks quickly show their true colors.
Bachelor #3 turns out to be your typical "lacks commitment guy." He has a lot of experience making promises, but isn't so hot living up to them. He can't bring much beyond core networking to the relationship, but feels he's "good enough" because he's slick and new.
Bachelor #2 is the "OK guy." He's new to networking, but feels that so-so products and an "lifetime" warranty is "good enough." The good news…he'll throw in a few printers.
And then there's Bachelor #1, the "man you can have a future with." He's intelligent, dynamic, and consistently evolving. In other words, the kind of network Lindsey could bring home to Mom and Dad.
Here's hoping Lindsay wins that trip to Acapulco…and finds her dream network! Click here to vote on which network Lindsay should choose.
You must be a registered user to add a comment. If you've already registered, sign in. Otherwise, register and sign in.