Beginner
Mark as New

Bookmark

Subscribe

Mute

Email to a Friend
Cloud Web Security - ScanCenter User audit report browsing history
Hi
I'm looking for some support creating a query/report in the Scansafe reporting utility to show a patricular users browsing history.
If I'm in the wrong discussion group / place please tell me.
My problem is I have been asked to gather the browsing history of certain company users. When I go in to Scansafe/Reports, there is an option to run a user audit. This sounds like what I need to run, but it will only work with the IP address of the users PC.
The report it generates is very vague & not accurate at all.
See the attached image of the csv file generated.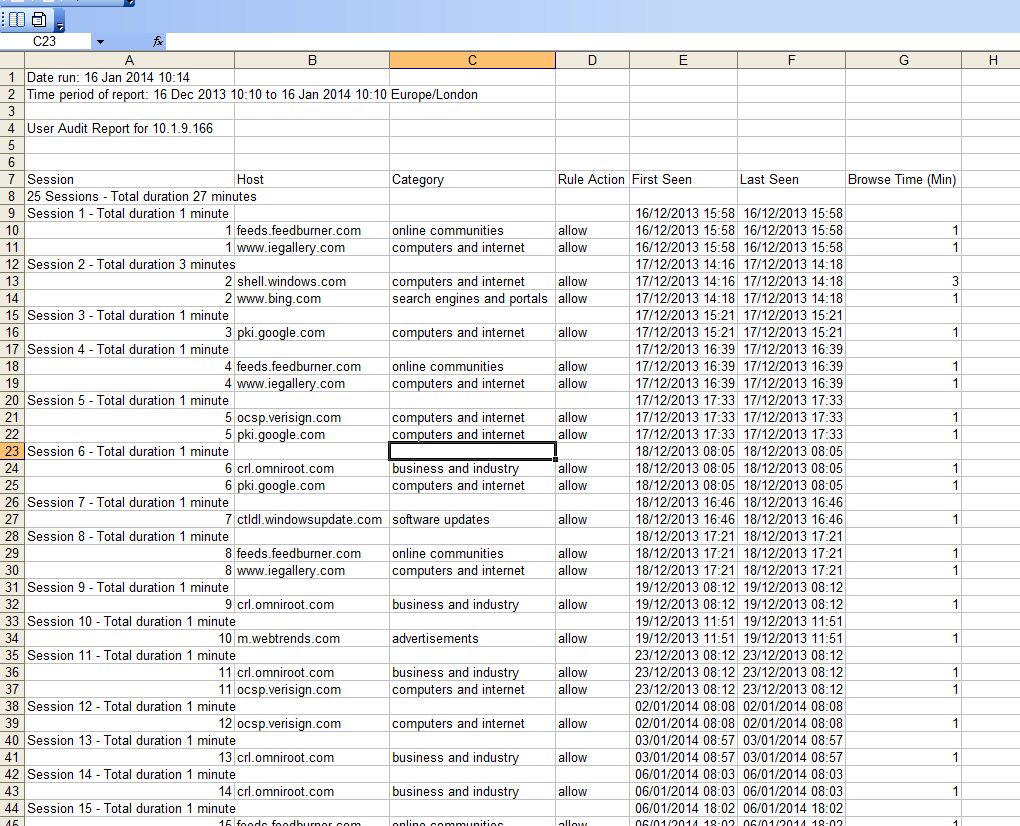 Can some body help me with this?
Beginner
Mark as New

Bookmark

Subscribe

Mute

Email to a Friend
Hi,
When you go to ScanCenter/Reports, you can select "Create Report".
Click to Detailed Search
Here you can select:
1) The timeframe to inspect
2) Add Filter using username instead of the IP address - you can also filter by other attributes
3) In the Select Attributes Column, you can add/remove detailed information that you want to see. For example you can add a Column that shows the full URL and files opened inside that URL
I've attached a sample screenshot that shows it.
Cisco Employee
Mark as New

Bookmark

Subscribe

Mute

Email to a Friend
Hi,
Please refer to the Scancenter administration guide for detailed reporting information :
http://www.cisco.com/c/en/us/td/docs/security/web_security/scancenter/administrator/guide/b_ScanCenter_Administrator_Guide/b_ScanCenter_Administrator_Guide_chapter_010011.html#task_FFFD90C0EF794A9DB07AD045A804E523
Let us know if you need any further information or clarification.