Mark as New

Bookmark

Subscribe

Mute

Email to a Friend
Spark Directory Connector: LDAP Filter not working as expected
Currently we have a couple of manually added users in spark. Now we want to use the Spark Directory Connector to sync our users from AD to Spark. We created a AD Group for all our Spark users and i am using the following LDAP Filter to sync only the members of the AD Group.
LDAP Filter: (memberOf='CN=sparkuser.xxx@xxx.xx,OU=SomeOu,OU=OtherOu,DC=XXX,DC=local')
When i do a dry run the directory is showing that all the members of the AD Group will be deleted, no objects will be added and that no objects are matched. I would expect that the Directory Connector will show no Users will be deleted, all All Members of the AD Group will be added and all members of the AD Group will be matched.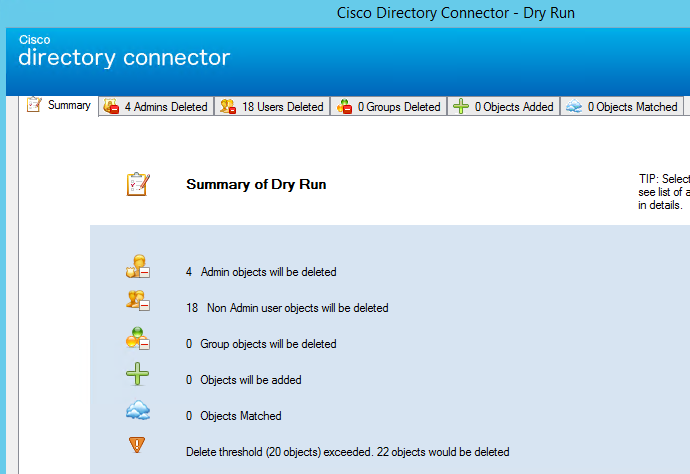 Could anyone point me to right direction so that i will be able to successfully sync the users?
Thanks in advance!
/Robert
1 ACCEPTED SOLUTION
Mark as New

Bookmark

Subscribe

Mute

Email to a Friend
The issue is solved
We removed the '@' from the AD Group name, and also removed the single qoutes from the LDAP Filter.
So our working LDAP Filter is looking like this: (memberOf=CN=sparkuser.xxx,OU=SomeOu,OU=OtherOu,DC=xxx,DC=local)