Options
Mark as New

Mark as Read

Bookmark

Subscribe
‎02-06-2013 02:09 AM - edited ‎03-12-2019 09:58 AM
Cisco Unified Communications Manager (CUCM) is the central piece to Cisco Unified Communications/Collaboration solution. Many Collaboration services, such as voice, video, conferencing and so on, depend on CUCM. In order to provide secure CUCM access and various CUCM security features (as well as secure integration with other Cisco and third party applications) Cisco has bundled a Certificate Authority (CA) and self-signed certificates with CUCM. CUCM comes with built-in certificate authority and offers a plethora of certificates for various functions and features.
A very common notion is that certificates are used for security – which, by the way, is 100% correct! However, you may ask, where is security used? The simple answer is – Everywhere! The following list of services or security functions offered by CUCM/Endpoints give a good insight to where security is used in Cisco UC Paradigm:
Encrypted Device Registration
Encrypted Calls
Encrypted Phone Configuration Files
Secure H.323/SIP Trunks and Gateways
Secure Survivable Remote Site Telephony (SRST)
Security By Default (ITL, TVS)
Secure Conferencing
Secure LDAP
Secure Web Pages (Tomcat)
Single Sign-On (Open AM)
Extension Mobility Cross Cluster (EMCC)
Secure Voicemail ports
VPN Phone
and so on. With that in mind, let's understand different types of certificates and CUCM PKI model that empowers you to design, deploy, and maintain a secure Cisco UC network, and is central to the security construct of Cisco UC solution.
Demystifying Cisco Unified Communications Manager PKI
Cisco UC PKI is not a single PKI system, but a distributed PKI where CUCM server certificates are self-signed by default with CUCM playing as a self-sustained CA. Moreover, CUCM has a wealth of certificates for different purposes such as:
Manufacturing-Installed Certificates (MIC) on IP Phones - signed by Cisco Manufacturing CA
Locally Significant Certificates (LSC) on IP Phones - signed by Cisco CUCM CAPF
Tomcat certificates - signed by Cisco Tomcat service and are available with install of CUCM for secure CUCM Administration, OS Administration access
Table 1: Public Key Infrastructure (PKI) Construct

Figure 1 provides an overview of X.509 v3 certificate.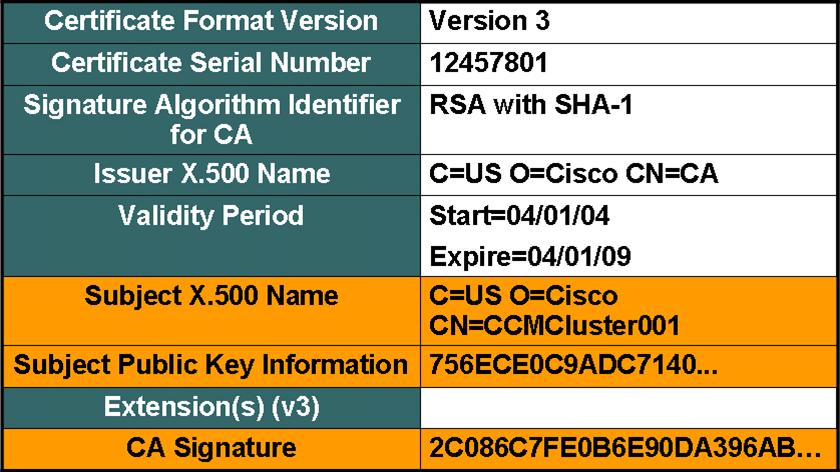 Figure 1: Overview of CUCM certificate
CUCM PKI is a disparate setup where a common trust provider is missing (for device facing certificates). Figure 2 illustrates the CUCM PKI construct.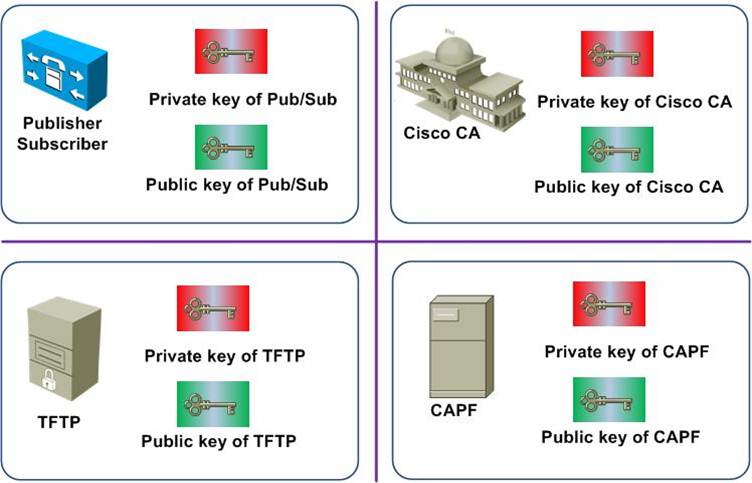 Figure 2: CUCM PKI Construct
An Insight to Certificates Available in CUCM
Let's delve deeper into various CUCM certificates and understand their function and relevance to different aspects of Cisco UC solution's security.
As indicated earlier, CUCM PKI is not a singular but a multilevel and disparate construct that enables and empowers you to secure various aspects pertinent to Cisco UC network's security – from endpoint security to network security to application level security. The following list contains certificates available in CUCM:
Security By Default (ITL, TVS)
Certificate Authentication Proxy Function (CAPF, CTL)
Tomcat (HTTPS)
IPSec
VPN Phone
Figure 3 gives an insight to the various certificates available within CUCM.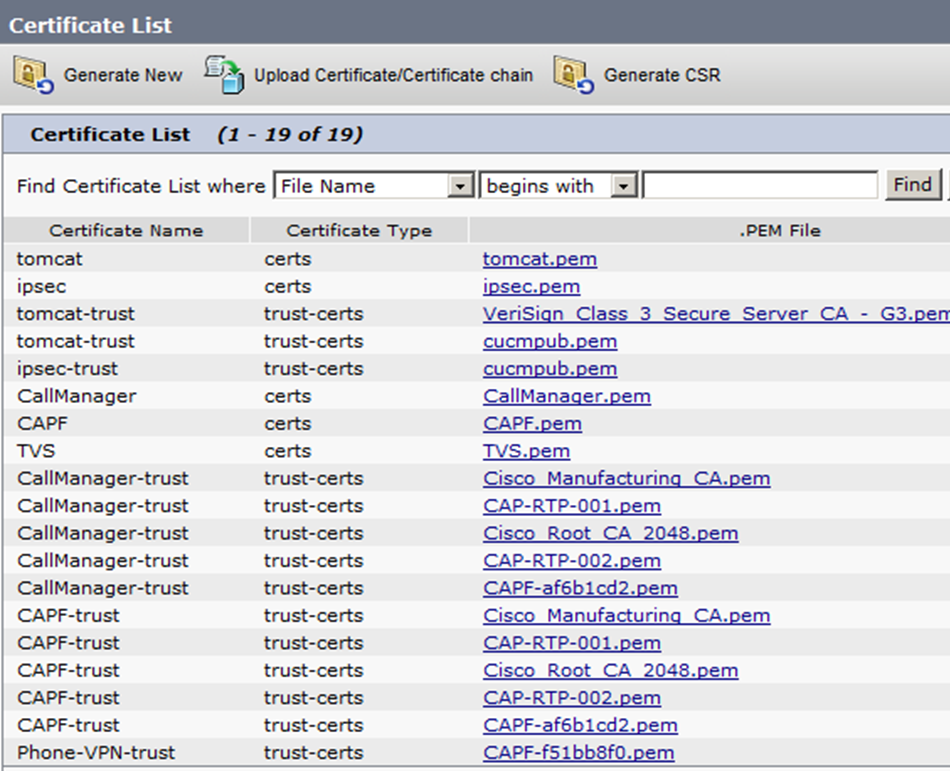 Figure 3: CUCM Certificates (click to enlarge)
CUCM ITL File and TVS
Security by Default (SBD) is a fairly recent introduction with CUCM 8.x and later releases. It enables default protection of endpoints from spoofing perspective. It allows endpoints to download a list of CUCM servers in the cluster, in the form of a file called Initial Trust List (ITL). This file is built automatically when the cluster is installed; no manual intervention is needed to ensure that the file gets downloaded to each endpoint. ITL facilitates – signing of phone configuration files, phone configuration file encryption, HTTPS with Tomcat and other Web services (Midlets). In other words, ITL is a smaller and leaner Certificate Trust List (CTL) with certain limitations. SBD also facilitates a new service known as Trust Verification Service (TVS). TVS runs on each CUCM server and authenticates certificates on behalf of the phone such that, instead of downloading all the trusted certificates, phones need only to trust TVS. In fact, the ITL file contains TVS certificates and a few key certificates:
The TFTP certificate - used to authenticate the ITL File signature and the phone configuration file signature
All TVS certificates in the cluster - which allow an endpoint to talk to TVS securely to request certificates authentication.
The CAPF certificate - to allow configuration file encryption.
CAPF – Certificate Trust List (CTL)
CTL is a trust list built with CAPF as root certificate authority. CTL is not implicit to a cluster unlike ITL and must be enabled explicitly for each endpoint, trunk, or device. CTL is signed by the Cisco CTL client using the private key from one of the administrator security tokens, which are all signed by the Cisco CA. CTL acts as an authorization list specifying which certificates belong to which function. The CTL client helps enable either authenticated signaling or encrypted signaling and media for endpoints including IP Phones, Gateways, Conference resources, Trunks, and so on. For Cisco IP Phones, CTL can be installed with a MIC or LSC certificate, with MIC being signed by Cisco CA and built into the phone whereas, LSC is downloaded from CUCM to phone. For Cisco TFTP function, the CAPF service can help provide encrypted TFTP configuration and firmware file downloads.
In a nutshell, each CUCM service (CCM, TFTP) has a self-signed certificate for Publisher, TFTP, Subscriber functions and, once CAPF is activated and CTL client is executed, it also has a self-signed certificate. All in all, all CUCM encryption and authentication functions related to CAPF act as their own PKI root, which are self-signed by default, however, can be signed by external CA as well.
Cisco Tomcat Certificate
Cisco Tomcat service, as the name suggests, is used by the Web Server of CUCM and helps display the administration, operating system, disaster recovery, and other GUI interfaces of CUCM. The service leverages a built-in CA for Tomcat in that it redirects the incoming HTTP requests to HTTPS using the default self-signed certificate. It's interesting to know that prior to CUCM version 8.5, Tomcat was used only for web interface; however, starting with CUCM version 8.5 and later releases, it is also used for secure LDAP integration using SLDAP. The Tomcat certificate can be signed by an external CA, which may be a requirement in an organization, to ensure that all certificates used for web-based interfaces adhere to the organizational security policy. This also mitigates the user side warnings pertinent to accessing an untrusted site – particularly when the CUCM Tomcat root certificate is not in the certificate store of the user's browser certificate store.
CUCM IPSec Certificate
More often than not, CUCM need to interoperate with voice gateways, which can be MGCP, H.323, or SIP protocol-based communication. While SIP has inherent capacity for securing voice media and signaling with a SIP TLS profile for SIP Trunks, H.323 and MGCP gateways offer limited support for secure signaling and, in such case, the signaling must be encrypted within an IPSec tunnel to H.323 or MGCP gateway. This can be done by creating an IPSec tunnel from CUCM to destination gateway using certificates (or pre-shared key).
CUCM VPN Phone
Cisco's VPN phone is a relatively new feature introduced with CUCM version 8.x that allows remote workers or telecommuters to have their Cisco Unified IP Phone 7900, 8900, and 9900 series connected to enterprise network from their home, hotel, or any place with internet access. The IP Phone enrolls itself with CUCM within the enterprise to download the certificates from CUCM and Cisco VPN concentrator. CUCM is, in turn, enrolled with Cisco ASA or Cisco IOS VPN device and exchanges certificates with VPN concentrator and vice-versa.
Summary
CUCM has a whole spectrum of certificates for various functions and Cisco empowers you to leverage them to have a strong and manifold security construct in place for your UC solution. While some certificates may be commonly used, some have very specific uses. Services like TLS for signaling and SRTP for media require CAPF certificates to be enabled and deployed, whereas secure web access leverages default Tomcat secure web services. CUCM certificates help organizations and IT departments harness the power of PKI to deploy the simplest to the most complex security functions and to help an organization achieve its business vision and goals by being in line with its security requirements.
Author Bio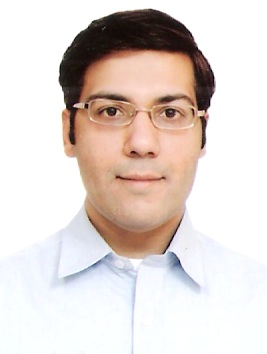 Akhil Behl is a Solutions Architect with Cisco Advanced Services, focusing on Cisco Collaboration and Security Architectures. He leads collaboration and security projects worldwide for Cisco Advanced Services and the Collaborative Professional Services (CPS) portfolio. Prior to his current role, he spent ten years working in various roles at Linksys as a Technical Support Lead, as an Escalation Engineer at Cisco Technical Assistance Center (TAC), and as a Network Consulting Engineer in Cisco Advanced Services. Akhil has a bachelor of technology degree in electronics and telecommunications from IP University, India, and a master's degree in business administration from Symbiosis Institute, India.
Akhil is a dual Cisco Certified Internetwork Expert (CCIE No. 19564) in Voice and Security. He also holds many other industry certifications, such as Project Management Professional (PMP), Information Technology Infrastructure Library (ITIL) professional, VMware Certified Professional (VCP), and Information Security Management. He's a prolific speaker and over the course of his career, he has presented and contributed in various industry forums such as Interop, Enterprise Connect, Cloud Connect, Cloud Summit, Computer Society of India (CSI), Cisco Networkers, IT Expo, and Cisco SecCon. He has several research papers published to his credit in various international journals.
Published by Cisco Press.
This article was featured in the February 2013 issue of the Cisco TS Newsletter. Are you subscribed?