Options
Mark as New

Mark as Read

Bookmark

Subscribe
on ‎07-21-2010 12:18 PM
CRS 4.0(4) - steps should be similar for recent UCCX versions.
Step 1
- Log into Cisco Desktop Administrator from the CRS server (Start> Programs> Cisco> Desktop> Desktop Administrator)
- Browse into the CRS Server> Desktop Configuration> User Interface (you can create a new Work Flow or use default)
Step 2

- Here we'll add the Start Recording and Stop Recording buttons for the CAD agents.
- Choose Task1 and select the 'Visible' box on the right pane
- Add Action - select Utility Action - Add new...
Action Name: Start
Action Type: Record
Action: Start
- Customize icon as desired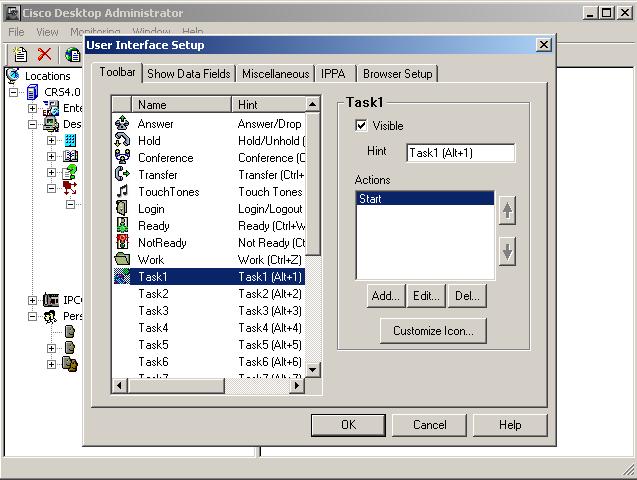 Step 3

- Add similar Action for Task2...
Action Name: Stop
Action Type: Record
Action: Stop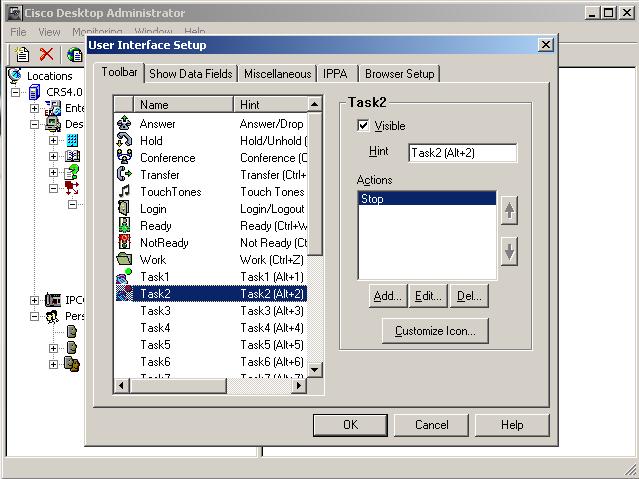 Step 4

- Make sure that the agent has this Work Flow selected.
Step 5

- Log out this agent from CAD and log in back again. Now the new tasks are available and agent can record it's calls.