Options
Mark as New

Mark as Read

Bookmark

Subscribe

Email to a Friend
‎12-23-2009 07:06 PM - edited ‎03-12-2019 09:25 AM
Introduction:
Cisco Unified Communication Manager is full of features and functionalists that can be implemented and employed to meet the business requirements for single site and multisite deployments. One of the most common used and deployed features in CUCM multisite deployments is the use of the local PSTN. with multisite deployment it is important the calls to PSTN use the local gateway and local PSTN as first exit point to those calls ( unless there is special requirements that need to route the call through a remote gateway), specially this approach is used to control billing and reduce the extra bandwidth's utilization over the IP WAN network between the sites.
before CUCM 7.x release the best way used to meet this requirement was the use of line/device approach to control the choice the local PSTN Gateway through the Device's CSS. Although this approach is very useful and successful, the implementation of line/device approach with big enterprise companies with many remote sties and branches will make it not very fixable as it will require alot of CSSs, partitions and Route pattrens to be created. In other words a full dial plan to be configured per site !.
CUCM 7.x and later has introduced a very useful and flexible feature that can be used to archive the same goal of line/device approach but with less complexity and with possibility of using one dial plan for all of the sites, this new feature called Local Route Group.
Technical Background:
With Local Route Group CUCM made the ability of assigning a route group for a certain site under the device pool of that site and when a caller make a call the route pattern will route the call to a route list and this route list has to be configured to use local route group, in this case the route list will send the call to the route group that is associated with local route group of the caller's device pool.
Design Example:
bellow is an example consist of CUCM deployment with two sites Site A and Site B, each of the Sites has its own local PSTN gateway and PSTN line.
with this example we will use a general pattern to represent a PSTN number which is 9.1!
when a caller from Site B call PSTN number with the above pattern the call has to try Site B PSTN gateway as first choice, same with Site A.
With Local route group implementations we can have one dial plan and one route pattern to archive the requirement of using local gateway for local PSTN calls
we create a route group for each site that contains the voice gateway of that site ( we could list the remote site Gateway as a second choice in the list for redundancy but this is optional and based on the design requirements as well ).
based on our example above we will have two route group one for Site A and the other for Site B.
Then we create one route list and in the setting of this route list instead of choosing the created route groups we select the option as Local Route Group
then we assign this route list to the PSTN Route Pattern, this route pattern is assigned partition called PSTN_pt
now we need to make sure that the phone's CSS of the phones that allowed to dial PSTN has the partition PSTN_pt to make sure those phone can dial this PSTN pattern
also we need to update each site's Device Pool by gassing it the respective local route group ( this route group will be referenced by the route list created above)
in our example Device pool of site B need to be associated with the Site B Route group created above, and same procedure need to be done with Site A
the bellow chart will describe the logical call flow described above: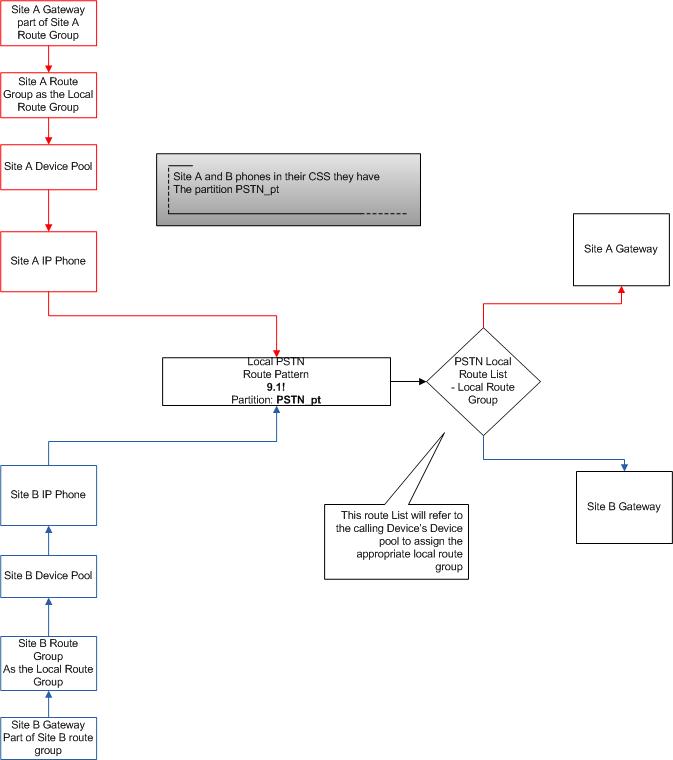 as we can see with one dial plan, one route pattern and one partition we were able to design a call routing for two differnt sites each of them uses its own local PSTN gateway
for more details about this interesting feature and other CUCM features refer to the excellent link bellow CUCM 7.x SRND:
http://www.cisco.com/en/US/docs/voice_ip_comm/cucm/srnd/7x/uc7_0.html
Thank you
Marwan Alshawi