Options
Mark as New

Mark as Read

Bookmark

Subscribe

Email to a Friend
‎09-26-2010 10:02 AM - edited ‎03-12-2019 09:31 AM
I will show how to register Ekiga softphone to Callmanager 7.1.2, I haven't tried it on anything earlier but it should be pretty simillar. Will try to add other SIP devices at the end of the doc.
Procedure
Go to Device > Phone > Add new > Type: Third party SIP Phone Basic and fill in the required values. The MAC may be a dummy value, but I choose the PC where Edika is installed. 3rd party SIP phones do not use this value to achieve registration
Go to the section called Protocol Specific Configuration: and select the Digest User that is going to be associated to this phone. In my case I already have a user associated that will be shown in the next steps. If there is still no user ready at this point, carry on and come back to this point when ready. *** DO NOT FORGET THIS STEP *** The phone wont register if the correct digest user is not used
Create an End User in Callmanagerthe username and password will be used in the Ekiga account for authentication
Check how the "Controlled Devices" box looks like. One of the associated phones is MAC 044B80808003, that one is the SIP phone I already added
That should be it from the Callmanager side. Now lets open Ekiga and configure it: go to Edit > Preferences > General > General Settings > Disable network detection (this might cause loops issues where Callmanager refuses the REGISTER message. Ekiga detects 2 NICs, and sources REGISTER messages with each IP configured. CM detects them duplicate and rejects authentication)
Now create a new account and configure it: Note that 1001 is the directory number configured in the 3rd party phone config page, and 192.168.1.10 is Callmanager's IP
IP Communicator calling Ekiga: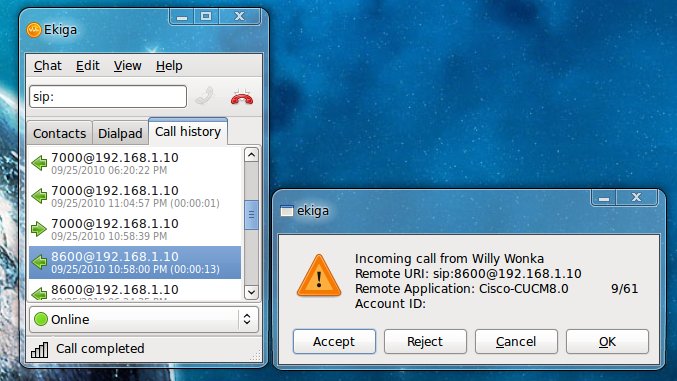 WRP 400 ATA
This is how we got a WRP400 to register both lines with CallManager as an Adanced Third Party SIP phone. Although on the GUI we saw it as "Partial Registered", we could call in and out from the analog phones attached.
The other way to add it is, to insert two different Basic Third Party SIP Phones, each one of them registering a different line from the WRP.
Click on Line 1 and Line 2 to configure different extension numbers matching what you have in CUCM:
Proxy: is the CUCM
User ID is the Directory Number in CUCM
Auth ID is the End User in CUCM
Password is the End User password in CUCM
This last screenshot shows Line 1, Line 2 should be configured the same way except for the User ID which would be the other Directory Number. If configuring this as 2 separate basic SIP phones, then Line 2 should use a different End User in CUCM, and will need the Auth ID in the WRP to be filled in with it.