Options
Mark as New

Mark as Read

Bookmark

Subscribe
‎05-10-2021 12:57 AM - edited ‎05-12-2021 05:18 AM
Dear all,
we have recently announced a new Webex Events service with a best-in-class virtual event experience that is video-centric, intelligent, and simple to use.
Some highlights (features of new Webex Events that were not there with existing/classic Webex Events service):
HD video quality
Optimize sharing for motion and video
Animated Emoji Reactions
Music Mode & Background noise removal
Cohost
Webcast mode (only for Events 3K customers)
plus much more to come in next months
To find more details on new Webex Events, check this excellent presentation (for partners): All New Webex Events TOI
Feature comparison between existing/classic Webex Events and new Webex Events?
In slides 40-42, you can find a feature comparison between new Webex Events and existing/classic Webex Events service, You will notice the new unique features that new Webex Events brings. Note also that some existing/classic Webex Events are not supported today in new Webex Events. As stated in presentation desk, some of them are expected to be supported/added in new Webex Events. So stay tuned.
Similar feature comparison could be found also here:
https://help.webex.com/en-us/0zzhde/Compare-Webex-Events-New-and-Webex-Events-Classic
Important note 1 - New Events service will be added in parallel to existing Events service
New Webex Events service will be offered as new session type on top of existing session types that customer has today. Existing (classic) Webex Events service will remain and customers can continue using this if desired - no change here.
So in summary: customers could start evaluating new Webex Events and if this covers them, they could switch to this. If some features, that are not added yet in new Events, are required, then they could continue using classic Events and monitor additions to new Events during next months in order to decide when is best for them to do the switch.
Apart from comparison articles, worth cheching also below help article:
https://help.webex.com/en-us/n46lpmfb/Known-Issues-and-Limitations-of-Webex-Events-New
Important note2 - How host could select new Webex Events?
If a host has session types for both classic and new Events, then they can select which one to use as below. Classic Webex Events can be found in same place as usual and new Webex Events will appear as dropdown option when host selects ''schedule a meeting''.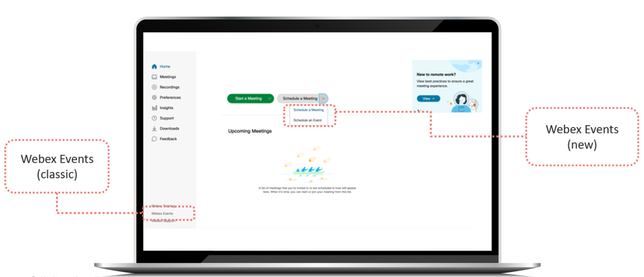 Important note 3 - when do we expect this for existing customers?
Customers with Webex Meetings suite (that includes Events 1000):
Beta: will see Webex Events (new) option available in a customer upgrade May 10-25.
Exact dates for this events-specific upgrade depend on cluster.
Schedule can be found in https://status.webex.com/maintenance
GA (General availability): targeted May 28, custom deployment schedule
Customers with Events3000 entitlement:
Beta: customers will need to opt-in.
GA (General availability): targeted May 28, custom deployment schedule
41.6 : any customer who has not opted-in will be auto enabled
Important note 4 - New Events specific upgrade took place but hosts can not see the new events option?
Assuming that based on note3, your site has been enabled for new webex events but hosts can not see this.
Note that when new Webex Events is enabled, you will see the new session type in your site settings in Control Hub.
This is the best check (check session types) to confirm you have this.
Note that hosts that had only meetings session type will not get automatically the new Events session type so don't look there
If desired, admin could assign them the new session type.
Hosts that had ONS session type are the ones expected get automatically the new Events session type option.
I am not aware at the moment of all the side cases but again checking your site's session types is the best way to see if you have new Events enabled for your site.
Important note 5 - webcast mode available on Events 3K subscriptions only
Webcast mode is an option only for Events 3K customers - this is not available for Events1K customers.
A few words on webcast mode:
When your event calls for a simple attendee joining and viewing experience, Webcast mode is a great way to host an event. Once attendees receive the invite and join from the welcome page, they can stream the event with a web browser instantly. Attendees can adjust volume, stop and resume video, and expand to full screen. The host can specify the layout for attendees at any time during the event.
Below you can find a comparison between Event/Webinar mode and Webcast mode :
https://help.webex.com/en-us/n80aayx/Compare-Event-and-Webcast-Mode-in-Cisco-Webex-Events-New
Important note 6 - expecting soon Webex Events with larger capacities
As presentation deck mentions plan is to support 10K participants in Event/Webinar mode and also support up to 100K participants in Webcast mode.
----------------------------------------------------------------------------------
please rate the posts you find useful
you can follow this post if you like, in order to get updates
In case it helps, index of my collab-related community posts can be found here:
Looking for info on Cisco Collab solutions ?
rgds
Alkiviadis

DISCLAIMER: this post was created in order to provide useful info to Cisco partners and customers in my area (Greece/Cyprus and Malta). For official and updated information, please consult cisco documentation, datasheets and ordering guides.