Options
Mark as New

Mark as Read

Bookmark

Subscribe

Email to a Friend
‎06-29-2016 06:15 AM - edited ‎03-12-2019 10:23 AM
Tool Description:
This tool helps to validate "SIP Profile Configuration (SIP Normalisation)".
This eliminates the need of setting up real devices or generating real calls to test SIP normalization feature.
Its takes the input as sip profile configuration and the SIP Message, The result is the modified sip message as per the input sip profile. This tools also provides a comparative result with the input message to clearly identify the difference in the output message after the modification.
An additional option "ADD INBOUND MESSAGE FOR COPY LIST" can be used for using the copy list functionality of the sip profile. It provides another input window for the incoming SIP message which can be used to copy any of the value from the incoming message and use it as a peer header to modify the sip message.
Key Features of the tool,
1. Applicable for Cisco SIP Gateway and Cisco Unified Border Element (CUBE)
2. Inbound copy-profile feature support
3. Real-time config editing and validation
4. Simple and friendly user interface
5. Output SIP message with changes highlighted
Tool supports 2 input modes
SIP Profile config and SIP Message
SIP Profile config and SIP Message with optional 'Input copy-profile'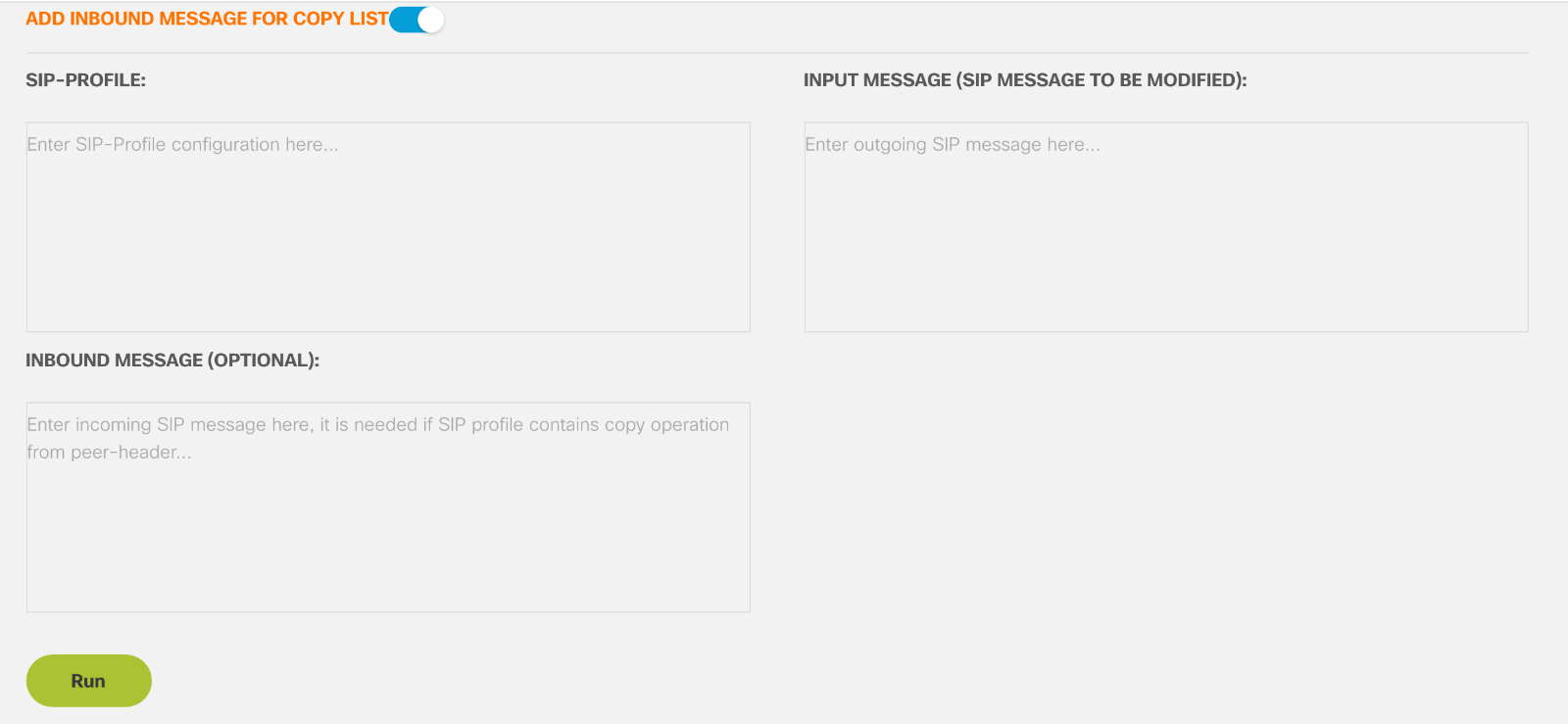 Sample output with modifications highlighted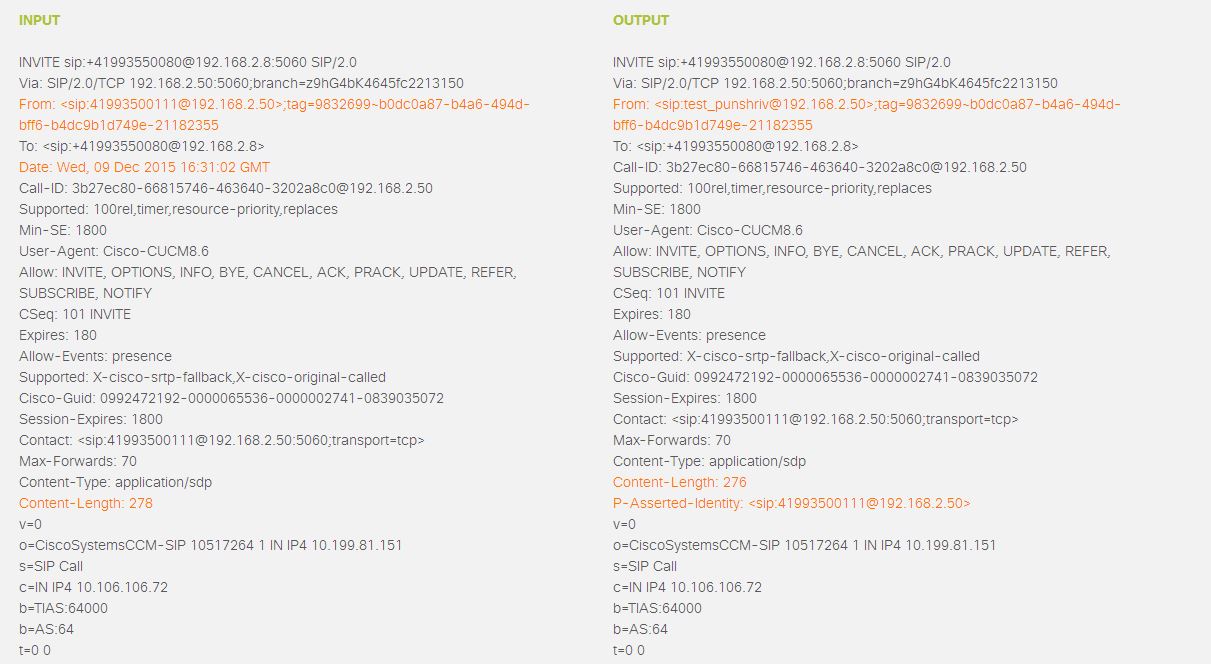 Customer Use Cases:
Refer following document - SIP Profiles on CUBE Enterprise Common Use Cases - Cisco
For any queries please reach out to
ciscocom-apps-sipprofiletest@external.cisco.com
Sample Message to Test the Tool:
Sample SIP Profile Config:
voice class sip-profiles 100
request INVITE sip-header Allow modify "UPDATE," ""
request INVITE sip-header Cisco-Guid remove
request INVITE sip-header Account-Number add "Account-Number:"
request INVITE sip-header From copy "<sip:(.*)@" u01
request INVITE sip-header Account-Number modify "Account-Number:" "Account-Number:\u01"

Sample SIP Message:

INVITE sip:+919922992299@192.168.2.8:5060 SIP/2.0
Via: SIP/2.0/TCP 192.168.2.50:5060;branch=z9hG4bK4645fc2213150
From: <sip:+91122112211@192.168.2.50>;tag=9832699~b0dc0a87-b4a6-494d-bff6-b4dc9b1d749e-21182355
To: <sip:+919922992299@192.168.2.8>
Date: Wed, 09 Dec 2015 16:31:02 GMT
Call-ID: 3b27ec80-66815746-463640-3202a8c0@192.168.2.50
Supported: 100rel,timer,resource-priority,replaces
Min-SE: 1800
User-Agent: Cisco-CUCM8.6
Allow: INVITE, OPTIONS, INFO, BYE, CANCEL, ACK, PRACK, UPDATE, REFER, SUBSCRIBE, NOTIFY
CSeq: 101 INVITE
Expires: 180
Allow-Events: presence
Supported: X-cisco-srtp-fallback,X-cisco-original-called
Cisco-Guid: 0992472192-0000065536-0000002741-0839035072
Session-Expires: 1800
Contact: <sip:41993500111@192.168.2.50:5060;transport=tcp>
Max-Forwards: 70
Content-Length: 0