Cisco Employee
Mark as New

Mark as Read

Bookmark

Subscribe

Email to a Friend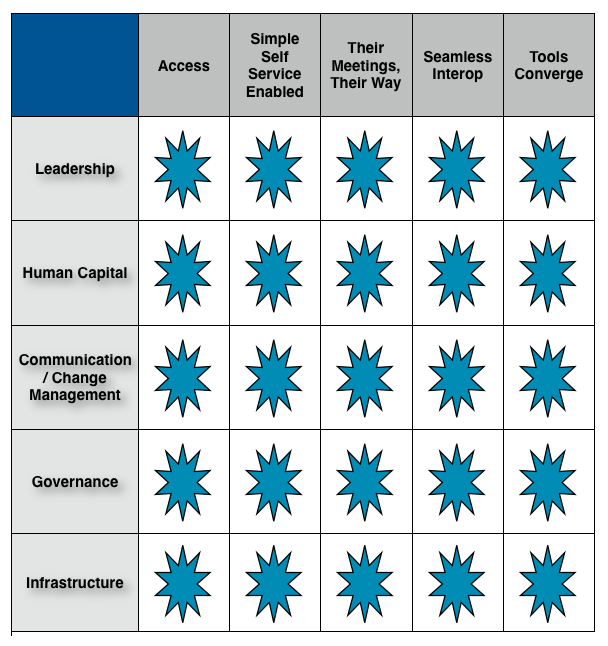 When it comes to 21st century technology supporting video and collaboration, I recognize 5 requirements... and 5 guiding principles for success...

Ubiquitous Access
Simplified Self Service enabled user environments
Usage Flexibility: Their Meetings – Their Way
Standardized, Interoperable platforms
Unified Communications Tools Convergence
Leadership : The alignment of business unit leaders as to the goals and benefits of video usage optimization.

Human Capital : Identification and empowerment of senior video champions within the LOBS, support organizations and leadership structure. Investment in education of support personnel providing both in-room and remote meeting support..

Communication : A comprehensive change and communication plan focused on the benefits, uses, and processes of video conferencing in both short and long term. Use cases promoting both the individual and enterprise value propositions should be showcased.

Governance : Advocacy and support allowing unified technology program control. Establishment of Key Performance Indicators, initiatives, and milestones with associated progress reporting.

Infrastructure : Convergence and interoperability between collaborative toolsets providing flexibility, choice and self service empowerment.
For today's post, I'm focusing on infrastructure.. who knows what the future may hold ;-)

Flexibility in configuration and on the fly adjustments are absolutely critical. The ability to flex to meet needs at a local/meeting level versus a centralized scale and control strategy is at the core. Webex does a great job of doing this..with the ability to manage the meeting on the fly.. pass the ball... connect/disconnect mute/unmute users on the fly from anywhere.. For HD video and telepresence, Many to many flexibility is difficult but it is the new baseline.

Users must be able to get their meetings, their way... In corporate IT, we must get used to the fact that the USER/CONSUMER is king.. They can and will change their expectations based on what they see and often based solely on what they want. Reasonable, supportable, scalable... doesn't enter the equation in most cases.

Functioning as designed can not be used as some sort of excuse for failure. It may indeed be a reason for localized dissatisfaction, but it is a design flaw at its root. We did a poor job either in capturing the requirements in the first place, or in building a system allowing for freedom and checks and balances. We can't just say it functions as designed anymore.. We must actively change our culture, process, and technology to be able to "turn on a dime" and give users what they want, when they want.. how they want it... In fact, our solutions must be so flexible, that they anticipate the future... now THAT is a challenge worthy of the incredible IT minds out in the world today.

Their meetings.. their way.. starts by asking our customers exactly how they work today and recognizing a need to progress slowly through a structured capability maturation change cycle..
NEEDED: a plan... that will do more than function as designed. I have one.
You must be a registered user to add a comment. If you've already registered, sign in. Otherwise, register and sign in.