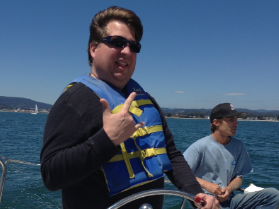 Contributor
Mark as New

Mark as Read

Bookmark

Subscribe

Email to a Friend
Every enterprise has an architecture practice. It may be formalized with regular stakeholder meetings to discuss business concerns and strategy for a technology roadmap, or it may be that one eccentric guy in the back room who just knows how everything fits together and works in his head. Either way, Enterprise Architecture (EA) has repeatedly demonstrated value for aligning business processes to technology investments. In the interactive flash below, I've made an attempt to show "Day in the Life..." scenarios of different roles that may be in your organization and map the required capabilities needed for effective collaboration to the Cisco Collaboration Architecture.
The Cisco collaboration architecture was developed using domain expertise from Cisco IT and Cisco Professional Services to demonstrate the set of capabilities required for effective collaboration and how those capabilities fit within the model to work together. One set of capabilities I'd like to draw your attention to is the "Collaboration Services" layer. What distinguishes this layer is the concept of services over features. As you look through the different workflows in each day in the life scenario, you'll begin to see how the same service or set of services is used by multiple processes. An enterprise architecture model allows you to clearly see what capabilities are required for a business process and understand how/where said capability is instantiated to avoid duplication of capabilities and overcome technical silos that may effect business in a negative way.
Your collaboration architecture model may look different, for sure looks different. You may have other capabilities you see as required for collaboration, you may have them in different areas. Let me know what capabilities we're missing. Let me know what capabilities we have listed that you question. Let me know your thoughts on the experience of how I'm showing the linkage from business processes to capabilities and ultimately to ways of instantiating them.
There may be some sizing issues with fitting the flash inside the community template. If you'd like to explore the Cisco collaboration architecture as a pop-up or in one of 11 languages other then English, then click the link and be taken to the Cisco Collaboration Architecture landing page. From there, select your language of choice or click the image to launch the architecture in action for the language shown in the drop-down.
You must be a registered user to add a comment. If you've already registered, sign in. Otherwise, register and sign in.