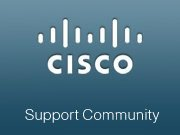 Community Manager
Mark as New

Mark as Read

Bookmark

Subscribe

Email to a Friend
thru
Welcome to this Cisco Support Community Ask the Expert conversation. This is an opportunity to learn and ask questions about configuring and troubleshooting the Digital Media Suite (DMM, SNS, DMP, Edge) with Cisco expert, Swati Chopra.
December 8th through December 19, 2014
The Cisco Digital Media Suite (DMS) is a comprehensive offering of webcast and video sharing, digital signage, and business IP-based broadcast television (IPTV) applications that can help transform how organizations learn, grow, communicate, and collaborate. Today, digital media is the single most compelling platform for effectively communicating information about news, training, and events to customers, employees, partners, and students. Cisco DMS is split into three functional subsystems: Digital Signage, Enterprise TV, and Desktop Video.
More detailed information about specific Cisco DMS products can be found at the following URL:
http://www.cisco.com/web/solutions/dms
Swati Chopra is a CCNA, CCNP, and VCP certified TAC lead for content switching, covering technologies such as Cisco Application Control Engine, Cisco Wide Area Application Services, Global Site Selector, Cisco Content Services Switches, and Digital Media Suite. She has been with Cisco for four years and has worked with high-end customers on Data center technologies. She completed her master's degree in finance; was heading an online education project in collaboration with e-Sylvan, and later moved to technical services due to her love for technology. She is actively involved with diverse Cisco initiatives such as Connected Women, WISE, Cisco Career Connections and recently led Cisco's Executive Shadow Program's communication pillar. She is also passionate about community service and works with "Second Harvest Food Bank".
December 8th through December 19, 2014

You must be a registered user to add a comment. If you've already registered, sign in. Otherwise, register and sign in.