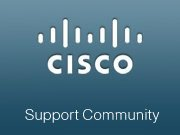 Meet the Authors Video - Leveraging SBCs to Empower a Changing World of Collaboration (Live event – Tuesday, 16th, 2020 at 10:00 a.m. Pacific / 1:00 p.m. Eastern / 7:00 p.m. Paris) This event had place on Tuesday 16th, February 2020 at 10am PST The need f...
Read More

Hello, I'm a member of the UX Research team for Webex and am looking for Control Hub users who 1) frequently use the Meeting Engagement tab of Analytics and 2) whose organization has already signed an MUBTA with Cisco. If that sounds like you, please fill...
Read More

(view in My Videos) This event had place on Thursday 22, October 2020 at 10hrs PDT Contact Center call flows are fundamental to the successful implementation and support of Customer Voice Portal (CVP) and IP Interactive Voice Response (IP IVR) deployment ...
Read More
(view in My Videos) This video demonstrates the process of registering a Cisco TP endpoint to CUCM
Anyone have any suggestions on which capture card to use that is recognized by Webex with Windows 10? Thanks.
Dear whom it may concern, I'm Phennapa Promthale. I cannot open my recorded video. What is the problem? How can I solve this problem and can open this video (I attached the statement after I could not open the video)? Thank you very much. Kind regards, Ph...
Read More
(view in My Videos) Published by Tyler Wilkin (twilkin) and Jerson Enrique Gamboa Gamboa (jgamboag) https://www.cisco.com/c/en/us/support/docs/unified-communications/expressway/215561-troubleshooting-expressway-mra-login-and.html
Hi All, We have various Poly Life-Size Codec with an RMA and gatekeeper and we have a new requirement where a site wants to be able to use their Poly codec to call SIP to other VTC's or IP smartphones. This may be to reduce the cost of T-1 circuits. We ha...
Read More
Two former education professionals talk about virtual learning and ways in which teachers and students can stay connected outside of the classroom. They share best practices for adapting and coping with online teaching and learning. Post your questions be...
Read More
Lorissa Horton, VP/GM for Webex Teams, and Travis Isaacs, Director of Design, share their tips and tricks for making the most of working from home and how to stay connected with team members using Webex Teams. They discuss best practices for being aware a...
Read More