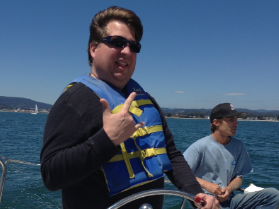 Contributor
Mark as New

Mark as Read

Bookmark

Subscribe

Email to a Friend
Much like Mojo Nixon's "Elvis Is Everywhere"- VIDEO IS EVERYWHERE!
As marketing professionals we say that video is pervasive. It sounds more impressive that way. The fact of the matter is the moment cameras became small enough to fit on mobile devices, with a quality that rivaled larger hand held cameras, it was just a question of time before real-time video would be delivered to and from those devices. That time is here. However, as we read in Enterprise Video: Crossing the Tipping Point in 2013 there's much more to it then real-time video communications. Let's look at the different shapes and sizes business video encompasses in a bit more detail:
I am continually surprised at how pervasive Telepresence video is at Cisco. In the early days it was just the immersive rooms, but now there are so many different endpoints that are Telepresence enabled, it's astounding. Not only are there different Cisco TelePresence endpoints from the immersive TX Series to the movable MX Series to desktop EX Series able to join the same Telepresence session, but so can employees using video phones from their desks or home Cisco Virtual Office. It becomes even cooler when you count the Cisco Jabber soft clients that allow others to join that same Telepresence conference from laptops, tablets, and smartphones.
With Cisco WebEx Telepresence the ability to connect from any device and location is even greater. You may be thinking "one is Telepresence and the other is web conferencing", but if you consider the functionality of the two, it is the same- 1:N audio with video and content sharing. Today the difference is that one is a cloud service and the other is on-premises. I can now participate in a Telepresence call with anybody from any location using any device.
Aside from corporate communications this technology is commonly used in training purposes for internal and external participants. Most often called "webinars", but in my experience many webinars are voice and content sharing only with a disregard for the video aspect.
Leadership teams are also using VoDs to post video messages into enterprise workspaces. A message is recorded from any video enabled endpoint (Telepresence room, webcam, laptop, tablet, or mobile phone) and posted to the enterprise workspace. Members of the organization receive a notice of a new message and can view it at their convenience.
More importantly, I call out the use of surveillance as part of the requirements for your overall business video strategy. As you consider video for your collaboration needs, you must also work with other departments, such as security, for their video needs to understand the full impact on the network.
There you have it, five forms of business video: interactive, broadcast, pull, push, and IP cameras. Each needs to be taken into consideration as you plan your collaboration strategy, determine requirements, and execute the roadmap. Think about your different use cases for video and the personas of the users. The video requirements for an executive differ greatly from the video requirements for a mobile worker. As you develop your video foundation, consider how to video enable business applications. Soon you'll find an ever growing culture of video collaboration as it becomes the way business is done.
You must be a registered user to add a comment. If you've already registered, sign in. Otherwise, register and sign in.