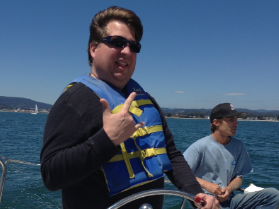 Contributor
Mark as New

Mark as Read

Bookmark

Subscribe

Email to a Friend
Here's an interesting article about the 8 Things Your Employees Need Most and would you believe that financial compensation is not even on the list? Rather, employees want to feel greater involvement in the business. They want freedom, trust and to have a voice that's connected with other voices in the organization. They don't just want an understanding of the long and short term company goals, but want to contribute to those goals and help define mission statements. We all, regardless of role, want to leave our mark.
Providing a sense of involvement to employees becomes challenging particularly as your company grows. When you're small, it's easy. Company meetings can be held in a single conference room, even called impromptu. Using a whiteboard and marker an entire company can brainstorm ideas, play devil's advocate and build upon the good ones. In other words, develop a sense of camaraderie through participation. As your company grows, it becomes more difficult to bring everybody together, to gather ideas, to shape new directions and motivate participation. This is when companies create structured organizations of departments and groups resulting in silos that become barriers to effective collaboration.
Overcoming barriers to collaboration is an ongoing challenge and why I'm a proponent of Architecting a Community of Participation. Online communities don't just provide a vehicle for outbound communications from executives on goals, targets, and expectations, but also serve as a vehicle for input from employees. This makes it easy for employees to offer suggestions, not just about the targets and goals the company has, but also to present new ideas and innovation. Considering The 9x Effect for Innovation Adoption the more bright people offering ideas the more likely there will be an idea that's truly innovative and of enough value to overcome the 9x effect. You never know where the next brilliant idea will come from for your company, but if you have the right collaborative vehicle and the right collaborative culture, you can rest assured that idea will have visibility as will the employee or group of employees that came up with it.
Online communities provide a greater means of connection in an enterprise environment because they help overcome organizational and geographic barriers. Nothing is better then meeting and connecting face to face. With communities you can easily provide forums for like-minded individuals to find and share information with each other and when the opportunity arises to meet in person the relationship has already been developed. You may be surprised where expertise comes from within your organization. Within Cisco we have an online community for Enterprise Architecture (EA). With a mission to provide a global community where people can come together to learn, inform and collaborate about all things architecture. Given the size of Cisco the membership isn't large at just over 2500. However, the surprising thing about the community is in the functional roles of the members. Both Cisco Services and Cisco IT have about 22% membership each, which is expected given they have practicing architects. The largest membership group at 36% is in Cisco Sales- a group not necessarily known for it's practicing architects, but does work extensively with customers and their architects to deliver greater business value with Cisco solutions. The information gleaned from the sales group has been instrumental in developing and refining our messaging for architects. Designed as an open community we overcame organizational and geographic barriers and tapped sources of valuable knowledge we may never have discovered without this environment. At the same time, members have freedom to express their own best practices and share their wisdom with others who are looking to advance roles and move into an enterprise architecture position.
A collaborative environment motivates employees to be more involved and have a greater level of engagement. The following video on Drive: The surprising truth about what motivates us further demonstrates financial compensation is not the greatest motivator: autonomy, mastery and purpose are. Online collaborative communities provide the opportunity for employees to explore areas of interest outside their comfort zone, learn from available resources, and once their knowledge has developed- they will start making contributions. This participation is something that occurs without adversely affecting primary responsibilities. The culture of participation is natural. Provide the right tools to cultivate participation and you're giving employees what they need most.
Are you taking advantage of the hidden potential throughout your enterprise? What's been most affective for you to give employees a voice? Let us know.
You must be a registered user to add a comment. If you've already registered, sign in. Otherwise, register and sign in.