edited on:

‎03-12-2019

‎09:58 AM
Overview
Nowadays the global market requires companies to be available and communicating globally across multiple geographical locations and regions. Consequently, there is a significant growth in the amount of companies that have global presence. As a result, traveling between different locations and regions for different types of meetings became a necessity for this type of companies. By using video conferencing these companies can significantly reduce travel cost and at the same time accelerate the return on investment of the video conferencing solution, not to mention that modern video conferencing solutions such as Cisco Telepresence can support many innovative collaboration capabilities and features that can be used in conjunction with the video conferencing sessions for improved collaboration and communications e.g. desktop and document sharing. Furthermore in the era of IP and mobile communications video is becoming the most booming method of communication whether at a personal level or enterprise business level. This document will discuss the approaches that need to be taken into considerations by network architects when architecting a VC solution using Cisco Telepresence portfolio.
Cisco Video Conferencing High Level Architecture
Cisco's Video conferencing architecture also known as Telepesence architecture is based on five main elements:
Endpoints

Video services i.e. Multipoint video call conferencing

Video infrastructure (call control and signaling)

Network

Management

These elements are all dependent and a successful design of a Video conferencing solution requires understanding of how each element applies to the overall design and how each element is affecting others.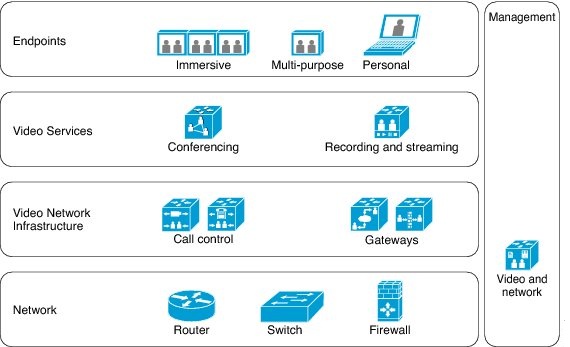 By using the above architectural layout in a top down approach the network designer or architect can identify the dependencies between these elements to produce a best practice design that meets the business requirements, for example if the business requires a VC solution that support 1080p HD life-size VC experience then the design "from top to the bottom" need to consider this business requirement by having end points support this requirement, call control system that is able to support this type of end points and the underlying network infrastructure must be capable to carry this type of VC traffic with the desired quality. Any lack at any level of these elements will generate a poor design and as a result the business requirements will not be met. The below figure depicts a typical Cisco Telepresence architecture
The following subsections will discuss each of these elements in more detail from a high level architectural point of view:
Endpoints
Endpoint selection is one of the most important elements in the Businesses video conferencing design, as it is the end user facing component and all the required features and capabilities will be experienced directly by the end users. VC endpoints provide different user experiences depending on the selected endpoint in terms of features and resolution type. For example, a multi-screen immersive endpoint can support high definition resolutions up to 1080p at 30 frames per second (fps) while a video-enabled tablet might support high definition resolutions up to only 720p at 30 fps. Cisco has the broadest range of telepresence endpoints, from personal to multiscreen, immersive solutions. This broad portfolio is flexible to meet the needs of the largest enterprises as well as small and medium businesses
Conferencing
When three or more video devices participate in a single session, a video conferencing mechanism is required to host this type of calls. In general there are three main types of video conferencing:
Ad hoc Conference
This is not scheduled beforehand, nor requires an administrator to initiate it. A point-to-point call escalated to a multipoint call is considered ad hoc as well.
Rendezvous Conference
Also called meet-me/static conferences, requires endpoints to dial in to a pre-determined number.
Scheduled Conference
This type of conferences provides a guarantee that endpoints and multipoint resources will be available at a certain time. Endpoints join manually or are automatically connected by the multipoint resource.
Cisco provides multiple video conferencing platforms that support all of the meeting types described above using both switching and transcoding, below is a list of the different type of Cisco conferencing platforms
Cisco MCUs

Cisco Telepresence server

Cisco Telepresence Multipoint switch

Cisco Integrated Services Router (ISR) G2

Note:
Each of the video conferencing platforms shown in the figure above might provide a set of features and capabilities that is not necessarily available in the others. Consequently the network architect is required to analyze the requirements from the business point of view before performing any product selection to make sure that the selected platform will deliver the expected user experience and meet the requirements
Video infrastructure (Call Control)
Call control in video and unified communications is the core component where the dial plan and call admission control is created also call control systems is the component where endpoints register, endpoint registration, call routing, monitoring, and maintaining connections. Cisco Offer to main call control systems that can be used with interactive video infrastructure:
Cisco Unified communication manager: CUCM can used for integrated Video and IP Telephony infrastructure in large scale IP voice deployment integrated with video
Cisco Video Communication Server VCS is designed to provide call control for video environments ( support H323 and SIP VC ) with advanced video features to support large-scale deployments, VCS is available in two different types:
VCS control: Provides call control for an enterprise video deployment

VCS expressway: also known as firewalls traversal, provide the ability extending video outside the enterprise for business-to-business communication or remote VC access over the internet.

Note:
There are various differences and variables that must be taken into considerations when selecting the call control platform for a video conferencing infrastructure, for example. Cisco Unified CM supports direct registration for all Unified Communications video endpoints and most TelePresence endpoints, while VCS supports most TelePresence endpoints but does not support Unified Communications endpoints. Consequently the decision of selecting a call control system must be made based on the required features, capabilities and the desired VC end points
Network
The network infrastructure is the gear that carry all the video traffic. As a result any lack of bandwidth between the end points participating in a video call will lead to a poor video quality and undesired user experience that will eliminate the whole idea behind video conferencing of having same in person meeting experience. That's why a careful analysis and design to the network and quality of services QoS is required to meet video traffic requirements for the designed or proposed solution, cisco Medianet architecture is the most recommended approach for a video enabled network. Cisco Medianet technologies integrate together to deliver an end-to-end architecture that enables video applications to interact with the underlying infrastructure. Cisco Medianet Simplifies and Scale Voice and Video Deployments by providing media awareness and this can help the network to become application and rich-media context aware end to end. The network works together with the video endpoints and applications for optimal quality of experience for end-users and improved visibility for IT.
Management
Video management platforms perform multiple functions such as scheduling, video endpoint and infrastructure monitoring, and in some cases provisioning or tracing of media flows across the network. Also scheduling is considered a key component in a Collaboration and Telepresence Solution, Cisco provides three main management platforms for TelePresence and Unified Communications video:
Cisco TelePresence Management Suite

Cisco TelePresence Manager

Cisco Prime Collaboration Manager

Cisco Telepresence Innovations
Telepresence is no longer just for the boardroom, Cisco Telepresence in fact is changing the way that human and business communications is done and how people can meet, collaborate and communicate no matter where they are and what device they are using such as desk phone, mobile phone, desktop or a Telepresence endpoint. As mentioned above Cisco Telepresence solution bring people together using different type of end points and devices into one conference with the in-person experience. Below are examples of some of the areas where Telepresence can be used to eliminate physical location limitations and make communications more timely and productive
Education
Telepresence, next-generation video conferencing, is used for distance learning, virtual field trips, professional development and extending the reach of major educational institutions
Finance
The finance community uses telepresence to discuss time-critical investment opportunities and deploy experts to local bank branches to provide remote real time advisor services
Health care "HealthPresence"
Cisco HealthPresence products are intended to allow healthcare providers to evaluate patients remotely or patients and healthcare providers to collaborate with specialists remotely
Manufacturing
Manufacturers use telepresence to troubleshoot issues in real time, design and develop products with increased efficiency and reduce time-to-market
For more details please go to :
Video Conferencing Design Considerations
This section will cover briefly and in a high level some of the technical consideration s that must be taken into account when architecting a Cisco video conferencing solution for an enterprise
VCS vs CUCM as a call control system
The latest version of CUCM is the recommended call control system especially if there is already existing CUCM with IP Telephony infrastructure in place where video endpoints can be added and integrated smoothly
VCS can be selected as a video call control system in situations like:
H323 VC endpoints

No Cisco IP Telephony ( PABX )

Only Video deployments

The below figure depicts the different types of Cisco Telepresence architectures that can be used to support different topologies and requirements
TMS vs CTS-Man as a Management and VC scheduling system
TMS is going to be the scheduling platform moving forward for TelePresence as it supports endpoints registered to CUCM and/or VCS in addition to that TMS can provide the following:
Provisioning and configuration of endpoints

Provides hierarchal directories and phonebooks for endpoints

Booking and scheduling of endpoints and infrastructure (conferncing, recording, etc)

APIs available for 3rd party applications to schedule and monitor systems

Transcoding vs switching in a multipoint video calls
Transcoding in multipoint video call has the fowling attributes
Ability to support different bandwidth speeds and resolution

Customized layout

Higher latency especially in cascaded meetings

Size of meeting's participants is limited by the hardware DSP

Higher cost per port

Switching in a multipoint video call has the fowling attributes
Low latency

Ability to scale higher

All end points participating a meeting must negotiate and agree on single resolution/frame rate

Interoperability requires additional hardware ( transcoding )

Regards,
Marwan Alshawi