edited on:

‎03-12-2019

‎09:55 AM
Introduction
This document describes how to resolve this issue of getting the following alert:
LogPartitionLowWaterMarkExceeded UsedDiskSpace : 90 MessageString : Common Disk utilization hits
LWM! AppID : Cisco Log Partition Monitoring Tool ClusterID : NodeID : ENPUSFPKINF10
Cisco Unified Communications Manager Alerts
Following is the output of "show status" command from the CLI.



# show status

Host Name    : <Hostname>
Date         : Sat Jan 21, 2012 05:28:35
Time Zone    : Eastern Standard Time (America/New_York)
Locale       : en_US.UTF-8
Product Ver  : 7.1.3.32900-4
Platform Ver : 2.0.0.1-1
License MAC  : <mac>

Uptime:
05:28:36 up 4 days,  2:18,  1 user,  load average: 0.58, 0.54, 0.53

CPU Idle:  98.03%  System:  00.99%    User:  00.99%
  IOWAIT:  00.00%     IRQ:  00.00%    Soft:  00.00%   Intr/sec: 1427.72

Memory Total:        2074832K
        Free:          26000K
        Used:        2048832K
      Cached:         561472K
      Shared:              0K
     Buffers:           5344K

                        Total            Free            Used
Disk/active         12357724K         932912K       11299268K (93%)
Disk/inactive       12357692K         905184K       11326964K (93%)
Disk/logging        43009872K        4489328K       36335708K (90%)

 
Resolution
Here you have three partitions in the Hard Disk, one is active partition, one is
inactive partition, the third one is common partition which is for log/trace
store.
 
This error message indicates that you are having the log stored in common
partition
 
To resolve this issue you need to delete the unnecessary log files:




For that



Open the RTMT plugin installed on the local Machine

Give the IP address and Credentials of the CUCM

Navigate to Trace and Log Central and click on Remote Browse
Select Crash Dumps radio button and click Next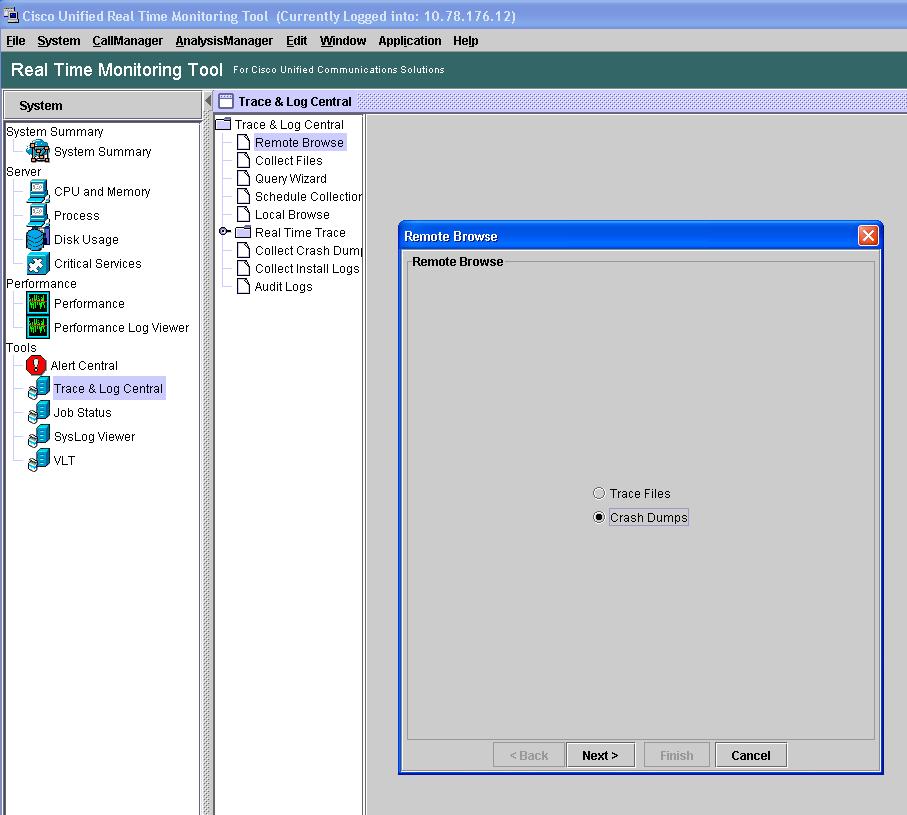 Check Cisco CTIManager and Cisco CallManager.
Click Next and Finish.
Here you can select the log files and Click on Delete Button and remove them.
Also, disabling the traces which are not required and lowering the debug level for the enabled traces would also help.
Related information