Cisco Employee
Mark as New

Mark as Read

Bookmark

Subscribe

Email to a Friend
Introduction
The disclaimer transport rules in Exchange 2007 put a disclaimer on incoming emails. This causes message-waiting indication (MWI) to fail on Unity voicemails. This document provides information on how to troubleshoot this issue.
Prerequisites
Requirements
Cisco recommends that you have knowledge of these topics:
Active Directory

Exchange 2003/2007 Administration

Cisco Unity 5.x and 7.x
Components Used
The information in this document is based on these hardware and software versions:
Cisco Unity 5.x/7.x versions, with Exchange 2007 Server as the partner mail store
Conventions
For more information on document conventions, refer to Cisco Technical TipsConventions.
Problem
Users experience lack of MWI lights on their system when a voicemail is left. If you are using Unified messaging, you will receive the voicemail .wav file attached email. There will be a disclaimer in the email body portion of the message when you view the email in an Outlook Client or Outlook Web Access. This can also be verified by using the DohPropTest on an example user and viewing the attribute AVP_MESSAGE_CLASS to see IPM. Note (email) instead of the IPM.Note.Voice.Unity that should be there.
Usual voicemail message with voicemail attribute:
The disclaimer transport rule in Exchange 2007 adds the disclaimer to the incoming email message body, which converts the voicemail attribute to the IPM.
Note: The email attribute causes MWI to not be triggered:
Solution
In order to resolve this issue, you must stop the incoming emails from getting the disclaimer added by adjusting the transport rule in Exchange 2007 which causes this issue.
Go to the Exchange 2007 server console and change the transport rule in order to restrict the incoming emails from having the disclaimer attached. Complete these steps:
Login to the Exchange 2007 server console and open the Exchange Management Console.

Expand Orgainization Configuration.

Click Hub Transport in the tree. In the right pane, go to the Transport Rules tab to view the current rules in place.

Look at the Properties of the rule that adds the disclaimer and make sure to remove any action checkboxes that cause it to add the disclaimer to incoming messages.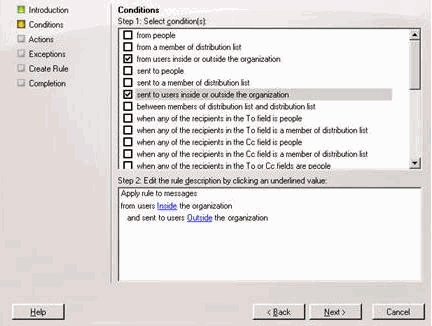 5. Test after adjusting the transport rule in Exchange 2007 by leaving the same user a new voicemail message. You need to verify if the MWI light works.
2 Comments
You must be a registered user to add a comment. If you've already registered, sign in. Otherwise, register and sign in.