Contributor
Mark as New

Mark as Read

Bookmark

Subscribe

Email to a Friend
If this is the post-PC era, I first encountered computers in the pre-PC era. I remember a field trip to a room of giant kitchen appliances that turned out to be full of information instead of groceries. Despite the lack of snacks, I was enamored with the punch cards they gave us as souvenirs. My dad was amused enough to bring home a whole stack of punch cards from his work -- Hewlett-Packard's Santa Clara manufacturing facility. (Another day he brought home a cat.)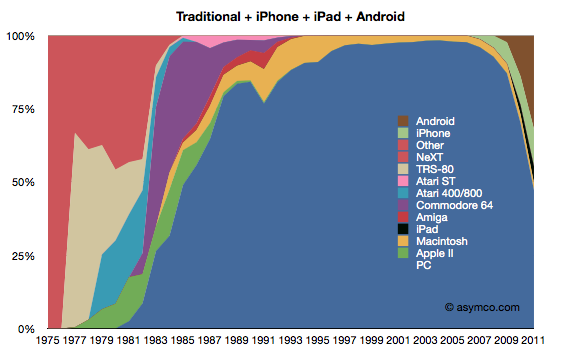 Not long after, I met my first desktop computer when I started learning very basic BASIC programming on a Commodore PET with an external cassette tape drive. Ah, the nostalgia of summer school and CRT displays.
In a recent internet trends presentation to BASE, the Business Association of Stanford Entrepreneurial Students, Mary Meeker, general partner at Kleiner Perkins Caufield & Byers, went through the charts and graphs showing the state of the union in the world of operating systems. In the late-1970s and early-1980s, the operating system world was a colorful place (especially when graphed). Then came Intel-based PCs. Microsoft started to take over, quickly flooding the universe with MS-DOS, then Windows.
Apple managed to maintain a Macintosh beachhead, but it was definitely a sea of PC.
For the most part, it was much like Henry Ford's infamous "Any customer can have a car painted any colour that he wants so long as it is black." At most companies it was the same story, you can select any of 14 options, but they're all PCs. Want a Macintosh? Provide business justification and get VP approval. Today at Cisco, the PC vs. Mac choice comes down to personal preference.
In 1998, Oracle introduced "the concept of hosted applications to the Oracle market, allowing customers to rent access to software hosted on Oracle computers and access those systems via a Web browser." As eager as Larry Ellison might have been to displace the dreaded Microsoft and PCs with lightweight terminals, the rest of the planet wasn't quite there yet. Hosted software? Internet storage? Thin clients? Web access? Huh, sounds a lot like cloud.
Fast forward and today we're in the post-PC era. Android and Apple iOS have made even quicker, more vigorous operating system inroads than DOS did, thanks in large part to devices and applications.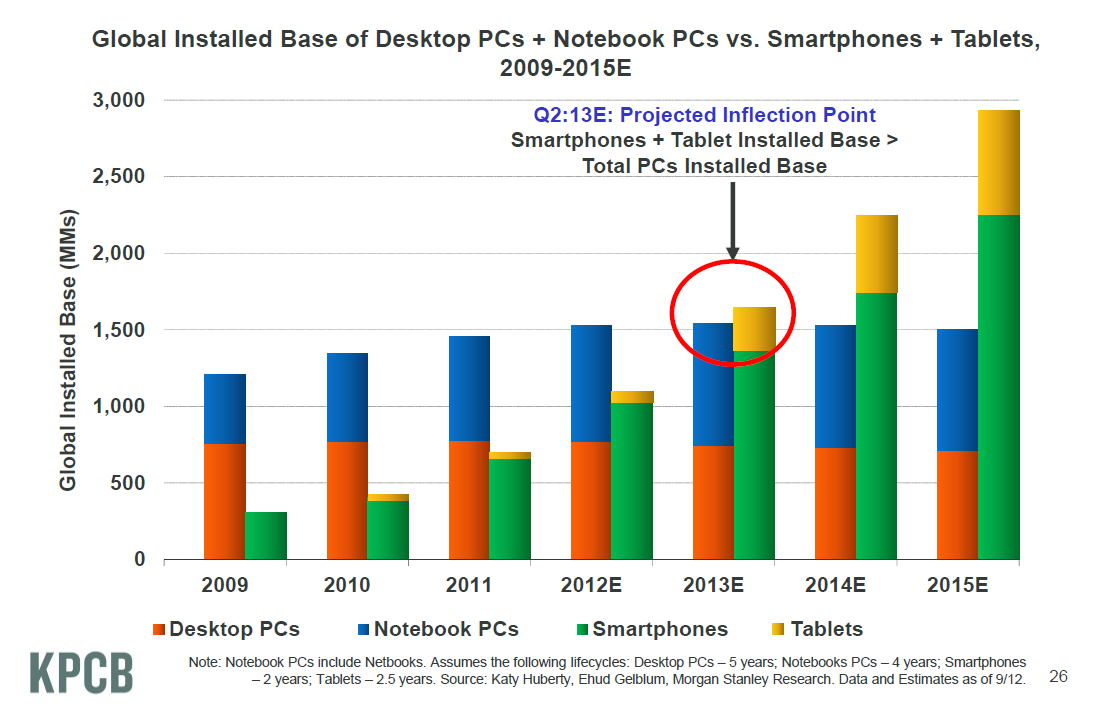 Devices
Smartphones and tablets have outplaced desktop and notebook PCs in global unit shipments since the fourth quarter of 2010, according to Morgan Stanley Research data.
PC manufacturers need to adjust more quickly than most seem to be doing to survive. Says ZDNet's Jason Perlow, "To put it bluntly, the Post-PC world represents a displacement of computing from the traditional, 30 year-old Intel architecture used on desktop to the Datacenter and the Cloud." We no longer need the same processing power and storage for the things we do on a daily basis. We have web applications, we have clouds, and we have mobile devices.
Today is about mobility, smartphones, tablets, and clouds -- ideas impossible to picture on my first field trip to HP. Operating systems, bits, bytes, and cumulus accumulations of data aside, the biggest difference is in how we use our devices of choice today. Emphasis on choice.
"Within ten years, the majority of business professionals will be using extremely inexpensive thin notebooks, tablets and thin clients (sub $500) which will utilize any number of software technologies that run within the browser or will use next-generation Web-based APIs and Web Services … to provide line-of-business application functionality."--Jason Perlow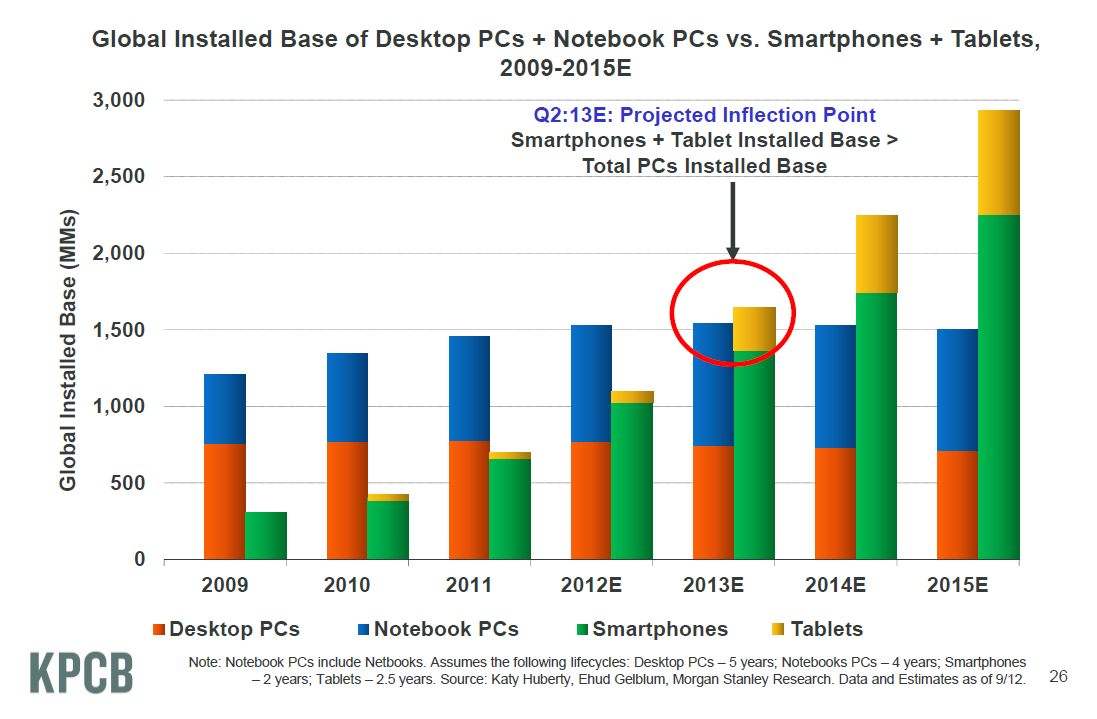 Applications
Microsoft Office still has a good claw-hold on the business applications world with Word, Excel, and PowerPoint, but it's slipping. We're using applications differently than we once did. Collaboration is less about documents and more about interaction, bringing forth more ways to communicate and more applications with which to do it: instant messaging and presence, web conferencing, enterprise social platforms, and more.
Collaboration solutions are about allowing people to communicate and share information anywhere, anytime, on any device. They're erasing the restrictions around devices and operating systems. If my PC is abducted by aliens, I can still be productive using my mobile devices or accessing what I need via a shared machine at the office.
The openness of Android and iOS has opened up the opportunity for all sorts of applications, both of the productivity and time-wasting variety. Who needs the standard PC solitaire when there are all sorts of flocks of Angry Birds to send up against drifts and droves of pigs?
You must be a registered user to add a comment. If you've already registered, sign in. Otherwise, register and sign in.