Contributor
Mark as New

Mark as Read

Bookmark

Subscribe

Email to a Friend
Decisions have consequences. It's a simple fact that not even my fourth grader will dispute. But if it's so simple, why do organizations often have so much trouble making good decisions? Or, knowing the potential consequences, why do they pay little attention to how they go about the whole decision-making process?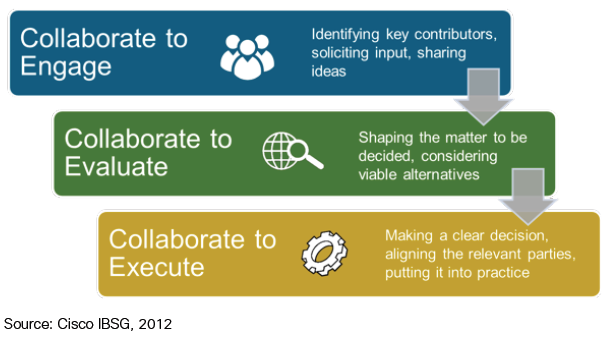 It's easy to find outside factors at which to point fingers when things go wrong – economy, competitors, politics, weather, Mercury in retrograde – but honesty requires that we acknowledge that internal factors and poorly made decisions are at the root of most major organizational failures. But it seems that most leaders aren't ready for that level of self-reflection. Just ask them.
Cisco IBSG asked more than 1,000 executives to rate the ability of their companies to make successful decisions on critical issues — such as corporate strategy, acquisitions, product launches, and entering new markets — 71% chose "excellent" or "good." But does the recent performance of large U.S. corporations match this assessment?
Put that 71% in the context of recent business history, but step carefully to avoid falling into the gaping maw of perception versus reality. The survey found that execs gave themselves high marks even in industries that saw significant failures, notably financial services (438 bank failures since 1998) and retail (37 major chains seeking bankruptcy protection in the past two years).
Where is the fracture that created this gap? Cisco IBSG study's found that although decision makers perceive themselves to making informed decisions, in reality they do not:
Make optimal use of the data they already have
Consult experts within their organization frequently enough
Use collaboration and analytical tools to support decisions rooted in fact-based data
The good news is that closing the gap is more about making better use of the existing organizational structure than throwing it out the proverbial window. Improving decisions comes from evolving the organization's ideas around process, collaboration, and the ways we empower people to contribute. This includes:
A management framework focused on connecting people to share information and ideas that emphasizes the outcomes of collaboration (i.e. quality of decisions vs. volume of interactions).
An approach to empowering employees as decision makers and experts based on engagement, evaluation, and execution.
A strategy to initiate and capture employee-led innovation in a way that increases the overall intelligence of decision-making.
Cisco IBSG calls this decision-driven collaboration and outlines three core elements that build upon one another in the decision process:
Collaborate to Engage: Identify key contributors, solicit input, share ideas.
Collaborate to Evaluate: Shape the matter to be decided, consider viable alternatives.
Collaborate to Execute: Make a clear decision, align relevant parties, put it into practice.
Rather than the dreaded time sink of decision by committee, decision-driven collaboration is about bringing together the elements to increase the intelligence of every decision. It requires clearly defined leadership, but focuses on locating and consulting people and information helpful to the outcome. It's about managing connections between people, extracting value from collaborative interactions, and taking better strategic advantage of people and what they know. And this requires that both executives and individual contributors have access to tools that enable collaboration.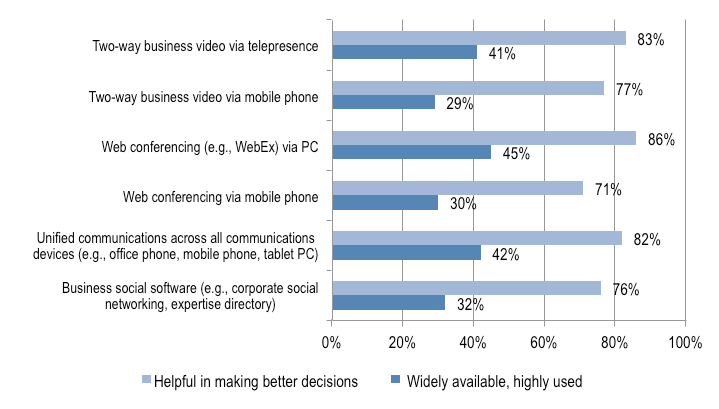 Source: Cisco IBSG
Each of the core elements includes people, processes, and technology as key enablers. When it comes to technology, we're no longer talking about e-mailing documents back and forth. We're talking about collaboration architectures that allow both synchronous and asynchronous collaboration.
Executives give high ratings to the value of collaboration technologies in improving decision making, but acknowledge that availability and utilization are considerably lower. Part of that disparity is access, part of it is culture and integrating new ways of interacting into decision-making processes.
~Kim
Stay Tuned: This is the first of a four-part series. In upcoming posts, we'll explore the core elements of decision-driven
collaboration: engage, evaluate, and execute.
For the full survey report, download Decision-Driven Collaboration: Insights from Cisco IBSG Horizons Collaboration Research.
2 Comments
You must be a registered user to add a comment. If you've already registered, sign in. Otherwise, register and sign in.