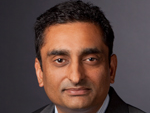 Beginner
Mark as New

Mark as Read

Bookmark

Subscribe

Email to a Friend
Over the last six months, I've talked with numerous customers and partners. One thing was clear: People get it. Connecting employees, vendors, partners, and customers – so they can work together with no barriers – makes sense. It saves money and time, and builds relationships.
It seems like overnight we landed in a post-PC world – a place where working from anywhere, anytime is how it is every day. Two technology trends are driving this new work-style while embracing the existing IT landscape: cloud-based applications and smart mobile devices.
Cloud-based services are already familiar in the consumer world – with music, storage, and social media – and in the business world with customer relationship management (CRM) and other transactional applications. The software-as-a-service (SaaS) model offers well-known benefits to IT – such as rapid deployment, flexibility to meet changes in demand, and the ability to shift costs from capital to a predictable operating expenses – all while providing an "always on" service that is available anytime, anywhere.
I keep coming back to that: anytime, anywhere. It is the touchstone for this new work model. Smart mobile devices are the perfect complements to cloud-based services. We can have consistent access to information from different devices and locations throughout the working day. Check email, join a conference call, or participate in a videoconference – all from your smartphone, notebook, tablet, or desktop. Whether you are on the road, in the office, or at home – place doesn't matter. The Cisco WebEx cloud collaboration applications are hosted on the Cisco WebEx Cloud, a platform that supports nearly two billion meeting minutes per month between 30 million participants in 231 countries.
The architecture, infrastructure, and operational procedures were all designed to deliver an enterprise-class collaboration service. The Cisco WebEx Cloud employs enterprise-grade security measures from the platform to the meeting, with stringent data privacy and integrated policy controls. Annual third-party audits validate these measures for compliance with rigorous industry standards. For more information, read the whitepaper entitled Unleash the Power of Highly Secure, Real-time Collaboration.
The Cisco WebEx Cloud includes multiple internet points of presence (iPoPs) and data centers throughout the world to optimize performance. This allows high-quality business interactions to be extended to more employees, partners, customers, and experts.
Another benefit of this intelligent network design is continuous service availability. All traffic is globally load balanced between servers and switches throughout the cloud and automatically replicated to a physically separate backup node. These measures ensure resources are always available – whether for scheduled or ad hoc usage – at any time of day or night.
Folks often ask about the top things they should be thinking about when evaluating cloud-based collaboration. I recommend focusing on high availability/resilience, scalability, performance, security, user productivity, offline productivity, investment protection, and vendor maturity and vision. We recently posted a whitepaper on this topic. Find more details there.
You must be a registered user to add a comment. If you've already registered, sign in. Otherwise, register and sign in.