edited on:

‎03-12-2019

‎10:21 AM
Introduction
This document describes the procedure to configure the Telephony features, Hunt group and Call Pickup group which are supported in Jabber for Windows (JFW)10.5.
Configuring Telephony features in CUCM for Jabber
Hunt Group
A hunt group has to be configured on the CUCM and you will have to add the user line to the Group. To do that Logon to the CUCM admin interface and go the menu option
"Call Routing -> Route/Hunt -> Line Group", find and select the group say "sales service" and add the user lines configured on Jabber clients.
Select the Hunt options as shown here...
Find the available DN to add to the line group and Select "Add to Line Group" and hit "save"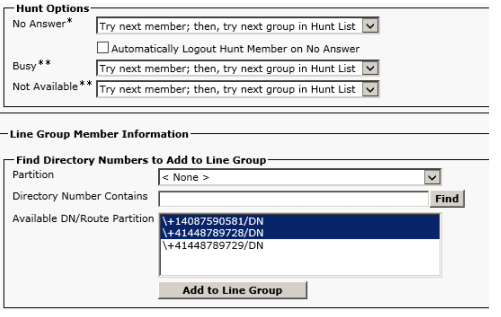 Call Pickup Group
Another Telephony feature supported with Jabber 10.5 and greater is Pickup Group. To activate the pickup functionality the Pickup group has be associated with the DNs lines configured for Jabber client
Navigate to "Call Routing -> Directory Number" - Find and select the DNs configured for jabber scroll down and select the "Call pickup group" configured and hit "save"
Repeat the same step for the other Directory number and configure the Call Pickup group.
Check this link for,
Enabling the Hunt Group & Pickup tab in the Jabber for Windows client
Related Information