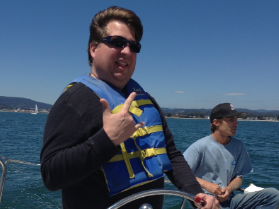 Contributor
Mark as New

Mark as Read

Bookmark

Subscribe

Email to a Friend
I talk a lot about Enterprise Architecture (EA), because I'm a big believer in the practice. The MIT Center for Information Systems Research (MIT CISR) tells us that Enterprise architecture is the organizing logic for business processes and IT infrastructure reflecting the integration and standardization requirements of the company's operating model. The operating model is the desired state of business process integration and business process standardization for delivering goods and services to customers. This means your architects must be in tune not only with your technology investments, but also with the different strategic initiatives for your company.
The key is being able to understand and prioritize strategic initiatives for the company then invest in technology to support those initiatives. By no means a simple task. Different organizations will have different priorities- HR may be focused on productivity, while Sales is focused on growth. Because of different operating priorities, business-based silos emerge. It's expected, not necessarily a bad thing. The challenge occurs when each of these business silos makes independent technology investments in support of their initiatives. Standardization has gone out the window and integration becomes an exercise of catching up with each new deployment. Ultimately, the business suffers from the lag and fragmentation.
As an enterprise you need the right balance of standardized technologies combined with the flexibility to allow organizations to define processes that best support their operating model. One way to visualize your technology requirements and how they map into processes is through an architecture capability framework. This image is an example of a collaboration architecture framework from Cisco. We've taken the Cisco portfolio of collaboration products and services and displayed them in a simple to view architecture. This architecture begins with a user centered approach, one that begins with what the user is doing. When it comes to collaboration a user will need to: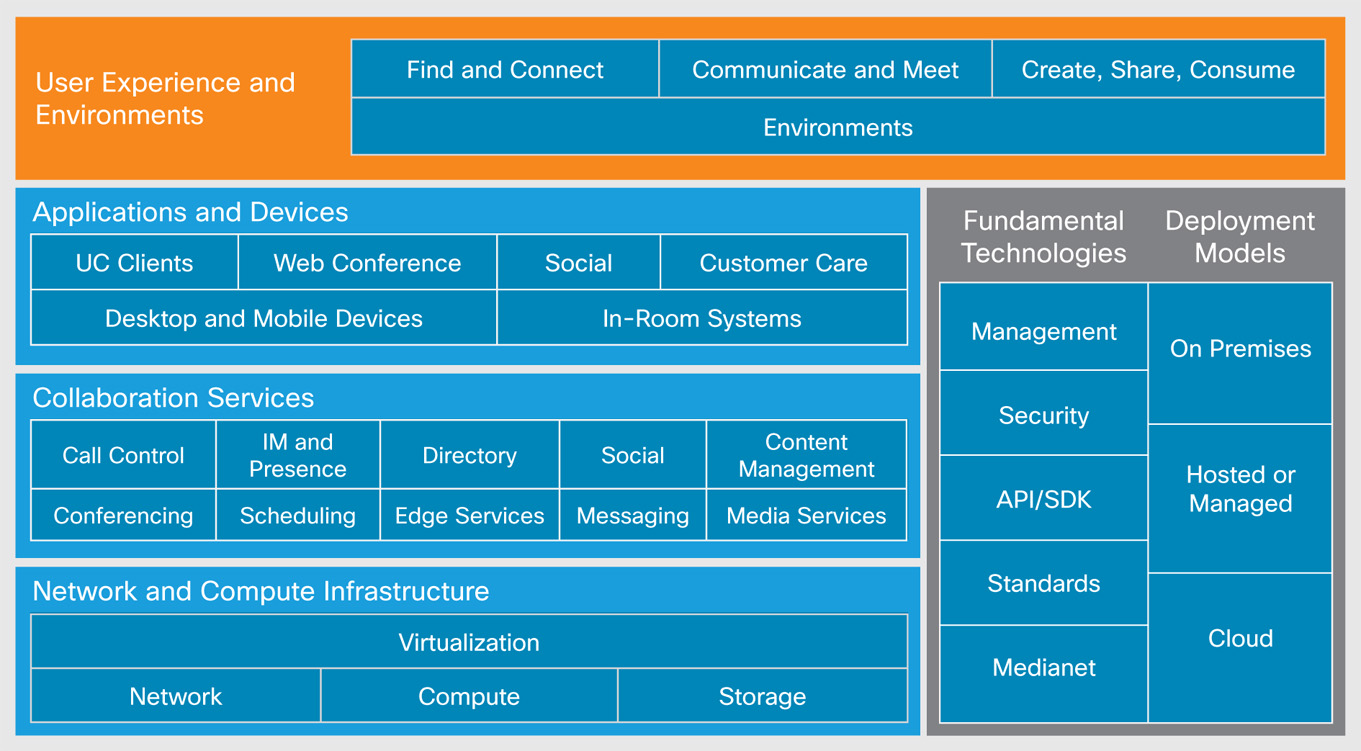 Find and connect with people and information
Communicate and meet with people in person or virtually
Create, share and consume content in any format from text to video
They'll need to do so under a variety of different environments from the work office to the home office, from the car to the plane. Consider the different environments of your users and the tasks they do on a daily basis as related to their collaborative efforts.
Now that you know what users will be doing in their day to day collaborative activities, the next question to answer is "How?". Based on use cases, the technologies required should become apparent. However, as always in the case of technology, there are a lot of ways to achieve the same thing. In the end, it will come down to the question of standardization or integration. How do you create a workspace with a common set of standard technologies, but users can still work their way?
When I think about the collaborative workspace I see an environment that is no longer physical in nature, but provides the same capabilities in a virtual world. I see an environment where asynchronous communications continue, but the knowledge transfer doesn't become forgotten or lost. Instead it becomes a record that is shared, builds upon itself, and is made available for others. I see an environment where synchronous communications have the ability to adapt to different needs without breaking session; adding new users, being enhanced with video and application sharing, and seamlessly moving across devices. Synchronous communications will also become part of the record, augmenting existing content and be readily available within corporate search engines. The new workspace will empower users to work their way, using preferred devices from any location. The workspace will become a key asset for meeting enterprise initiatives with new innovative ways of doing business.
The corporate workspace of today is digital. In order to meet the collaboration requirements in the mobile, social, visual, virtual workspace, employing an enterprise architecture approach is key, if not mandatory. Tony Byrne tells us in his post Digital workplace and enterprise architecture -- two sides to same coin "There's clearly an opportunity to apply well-known user experience methodologies -- such as User Centered Design (UCD) -- to improve your colleagues' effectiveness here." and "UCD + EA = New Digital Workspace".
Do you have your collaboration strategy defined with a vision of how employees will collaborate? Is the digital workspace a direction? Are you empowering employees to work the way they want, engaging with others in new ways to drive greater innovation?
You must be a registered user to add a comment. If you've already registered, sign in. Otherwise, register and sign in.