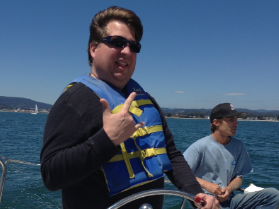 Contributor
Mark as New

Mark as Read

Bookmark

Subscribe

Email to a Friend
The other day I passed by an open conference room door and our awesome community manager Laura Douglas was inside. Laura is far to nice to give the evil eye right to my face, but I felt something as I walked by that open door, because I had to stop, turn around and acknowledge that it had been to long since I last blogged. It isn't because I'm not thinking about blogging or blog topics, as a matter of fact as I look at my white board I have 9 ideas for blogs written on it. Coincidently enough, I'd like to blog about the 9x rule next. So, the question becomes why was I distracted from my blog postings?
I think a major contributor has been with timing and ongoing activities for the organization. We're in the first quarter of the fiscal year and there have been some organizational changes to better align with our direction and strategy as is common with all companies the size of Cisco. These activities left me a bit distracted from posting blogs, although I did continue to keep and add to my list of blogging ideas. As these activities lead to new projects (some shorter and some longer term) priorities have shifted and while I never forgot about blogging, I would continually think I could do it tomorrow. After a lot of missed tomorrows, tomorrow is finally here. I think with blogging in particular, there's a challenge in terms of feedback and knowing the impact of content. Blogs have a lower rate of participation for online communities for this reason. However, those blogs that are successful tend to become wildly successful with a lot of followers and comments.
New toys are also a distraction. I'm in the early adopter program for the Cisco Cius and have spent the past few weeks ramping up on the product, providing feedback and learning all the tricks of collaborating with it. Maybe not all the tricks, as it's an impressive device in terms of flexibility and use cases, and while I've found there are some areas of collaboration that the Cius is great for I'm not an experienced tablet user, so the interface has required a learning curve on my part. Until I am comfortable and the interface becomes second nature, I'm a bit slower in using it for some tasks as I'm distracted by figuring out what to do next.
Overcoming these distractions is not difficult, but does require diligence. First you have to plan what you're collaborating on and it's extremely important that you have an end-goal for each session. Break down the end-goal into smaller steps, each with a deliverable. Plan the schedule and post the schedule to a common workspace calendar. Next you have to have effective communication among the members. Use the methods at your disposal to clearly communicate the deliverables and expectations for each collaborative effort. Ensure everybody understands where you are and where you're heading with these efforts, encourage questions and discussion threads to avoid confusion. Set a level of prioritization for yourself and the team members. Don't expect people to collaborate out of the goodness of their hearts, create a level of visibility with their management. Communicate the value of their participation and the benefits they'll see through their active participation. Finally, for those who cannot commit or have other priorities, have them delegate to team members who can commit the time and resources needed. Always a good idea to have a primary and secondary participant from each group. Make sure instructions are clearly communicated and reviews are regularly held for visibility up and down.
One thing I did at the beginning of blogging was to set expectations with my manager in the form of MBO's to create visibility into my efforts and remain focused on delivering content on a regular basis. This allows me to plan a schedule of blogs and priortize postings based on that schedule. Now that many of my distractions are behind me, I can say mea culpa at having such a long time between postings and I look forward to hearing some of your distractions to collaboration and how you overcame them.
2 Comments
You must be a registered user to add a comment. If you've already registered, sign in. Otherwise, register and sign in.