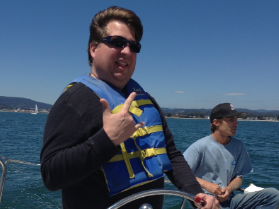 Contributor
Mark as New

Mark as Read

Bookmark

Subscribe

Email to a Friend
Last week was Enterprise Connect and I was slated to go. Unfortunately, I fell ill and couldn't go. Total bummer. My recommendation is if you're going to get sick, don't get sick during a show you want to see. Furthermore, if you are going to fall ill, don't catch what I caught. It was not fun.
Instead, I had to use social media and internal communications to keep up on what was happening at Enterprise Connect. I watched the video of Rowan Trollope giving his keynote. It was a great presentation. If you haven't had an opportunity to watch the keynote the following link should provide you access to a video. http://cs.co/6013gpMS
I'm highly encouraged by what I heard and saw in the keynote presentation. In particular, I'm appreciative of the customer experience focus and direction. We really must think of collaboration as a process. Collaboration is connecting people to work together on meeting a common, unifying goal. We collaborate through communications. To that end, simplfying the way we communicate and the tools we use is paramount to successful collaboration that is effective and efficient.
Eric Krapf did a really good job summing up the keynote in the following article: Enterprise Connect: Cisco and Google Team up. Eric spoke to the simplicity of setting up the video end-points, the experience of properly framing the dominate speaker, and the integration with mobile devices that may make the remote control obsolete.
I will be attending and working the booth at Interop next week. If you're going to be there stop by the booth, say hi, and see what we have in the area of collaboration. We're going to be focusing on some of the user personas and how easily people can communicate with a consistent experience across different devices and locations. Look forward to meeting you there.
You must be a registered user to add a comment. If you've already registered, sign in. Otherwise, register and sign in.