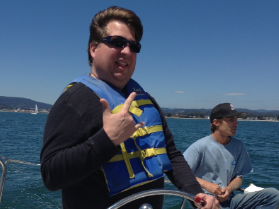 Contributor
Mark as New

Mark as Read

Bookmark

Subscribe

Email to a Friend
Today has been one of those days. I knew it was going to be a rough day when I hadn't properly set my alarm this morning. The switch was in the middle between "on" and "off" and the middle equates to "off". Fortunately, my internal clock was still ticking and by some miracle I woke up not much later then my semi-set bedside alarm was supposed to wake me. It's amazing how quickly I can move when this happens. It must be the adrenaline rush that comes with the realization that I am now behind schedule on getting ready for work. This morning I was scheduled for a customer presentation. I have a 50 minute commute when there's no traffic, I pad an additional half hour for rush hour. I was running about 10 minutes behind, but I could still make it on time if traffic was cooperating.
Traffic was not cooperating, at least not for the first leg of my commute. On the second leg of my commute traffic was moving nicely and I recovered some time. As I approached my half way mark (isn't it something how many landmarks we have for our daily commute?) I saw that I was still 5 minutes ahead. I'm not panicking yet. I take the exit for the third leg of my commute and things are looking good for about 5 seconds, then traffic slows to a crawl and many times to a complete stop. Now I start to panic. I grab my mobile phone and send an e-mail to the presentation program manager letting her know I will need to reschedule 10-15 minutes later. If you happen to be a member of California law enforcement this is not an admission of guilt to the "hands-free" law. As I neared the presentation site, I used Jabber IM on my mobile phone to provide an update to the program manager (while stopped and not driving) and received an immediate response that everything was set. The new expectations were communicated and the customer filled the available time by going to the Cisco store. We had a great presentation.
Right after, I had a meeting to attend a couple buildings down, so I hustled over and got there just after start time. Only thing was, this was a virtual meeting. The only people in the conference room were the presenters. My laptop was back in the car two buildings over. However, the conference room was equipped with a display screen on the wall. The presenter sharing the content slides was able to display them on the in-room screen as well. I was now able to fully participate in the presentation by viewing the content as I listened.
Immediately after the presentation ended I had another call scheduled. I'm in a completely different building and without a workspace. The building I'm in has an open plan floor space with special privacy or quiet rooms that are available to anybody with a need for them. Each room is equipped with a phone, small desk, and chair. I dialed into the conference call using the information from my calendar app on my mobile phone. I could have just tapped the "join now" button in my calendar app, but I didn't have the need to. Aside from using unnecessary mobile minutes I also like the feel of the traditional handset, which I can hold in the crook of my shoulder.
After the call ended, I had a lunch meeting to attend. It was back the way I came from. Just on the other side of the building I started my day in. I had traded some IMs earlier with my colleague using Jabber from my Android phone to his iPhone. He let me know he was heading down from SFO airport. Turns out traffic was still awful and my colleague was running late. He was able to let me know through SMS and I let him know where I was waiting and that it was all good as I was having a coffee. He arrived, we met, we ate and we went back to work in all of about 20 minutes.
For me, back to work was another customer EBC presentation delivered over Telepresence. I go to the Telepresence room and the system was down. The previous speaker told me the system went down a few minutes before and he had to finish his presentation using his mobile phone. We are Cisco and we are the leader in IT and communications, but that doesn't mean we're infallible with our own technology roll outs. I went to the virtual concierge and asked for a new Telepresence room. She immediately gave me one and scheduled it in the calendar so nobody else could reserve it. And wouldn't you know it, with the way this day has been going, the room didn't have a computer in it for me to present from. Don't forget my laptop is in the car. I have no content to share. However, the Cisco account manager with the customer was able to bring up content from his location, share it on the display with me and I spoke to it.
I had another meeting that conflicted with the customer presentation and was unable to attend the first portion. I didn't want to miss any more of the meeting by driving back to my desk before attending. I grabbed another privacy room in the building I was in and used the WebEx Meetings app on my Android phone to connect to the meeting. I did this so I could view shared content and have video. As a global virtual team we agreed early on to enable video as often as possible during our meetings as literally nobody on the team works in the same location. Even though I missed the first portion of the meeting, there was still quite a bit of time left. After a while my hand holding the phone started to become unsteady. I was looking like the Blair Witch Project in the self view with my shaky camera. Not to be deterred, I snagged a sheet of paper and made myself an impromptu stand to hold my phone and steady the video for the rest of the meeting.
Today was definitely "one of those days", but no matter how much went wrong I was able to still stay connected and collaborate with different groups of people inside and outside of Cisco. I'm reminded of the US Marine motto "Improvise, Adapt and Overcome" and that's what I had to do today. At Cisco we sometimes forget how good we have it in the areas of communications. The fact that so much can go wrong, yet everything still works out, is a testament to the Cisco collaboration strategy. The way I can move across locations, use any device, access a host of communication applications to be productive, effective and efficient is incredible. I'm impressed and proud of what Cisco offers today and I believe our strategy will continue to drive success for you, even when you have one of those days.
You must be a registered user to add a comment. If you've already registered, sign in. Otherwise, register and sign in.