Contributor
Mark as New

Mark as Read

Bookmark

Subscribe

Email to a Friend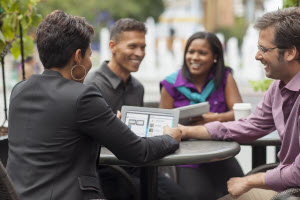 I collaborate, you collaborate, we all collaborate. An organizational chart may show hierarchy, but it doesn't represent how people actually interact within – and beyond– an organization. Our roles don't affect whether we collaborate, but do influence our needs, priorities, and the devices we use.
There's a clear advantage to technology that empowers people to engage and creates a consistent user experience so that the interaction essentially the same – anywhere, on any device. Just as our roles differ, so do our collaboration priorities and device needs. But we don't work only with others in our own role. We need to collaborate with people across the spectrum within an organization.
I use three or more devices to collaborate in a single workday. Frankly, you shouldn't care. Before you and I talk, we shouldn't need to take a mutual device inventory to figure out how to connect. If I don't have to focus on what I'm doing to interact with you, I can focus on the conversation and the whole reason we're connecting.
We've outlined five user personas to illustrate how collaboration technology can best serve the needs of people in different roles. Click through on a persona to get more information and to see the use cases that support their needs.
Information Workers
Implementing intuitive collaboration solutions lets people shift focus from individual applications to the actual end result of the tasks, saving time, simplifying workflows, and increasing interaction and productivity. Information workers:
Spend most work time in a primary office location

Spend part of the day in meetings in person or through web conferencing

Communicate 1:1 through instant messaging, email, and phone

Use a smartphone to be accessible outside of normal work hours

Collaborate with people locally as well as in other companies and locations
Mobile Workers
Per research from Forrester, 56% of employees regularly work outside the office and 62% work in multiple locations every week. Ensuring their productivity requires making sure they can connect all the time. "Employees are becoming more mobile and looking for ways to still be connected wherever work needs to be done," says Phil Redman, research vice president, Gartner. Mobile users:
Have a primary office, which may be a home office

Travel locally, nationally, and internationally

Spend the majority of an average day in meetings

Interact with people in multiple locations and time

Need to access networks and applications and respond to information in real time using multiple devices
Executives
Executives are expected to be everywhere at once and see every corner of the business. Today, being effective requires the ability to perform the same tasks and access the same tools, people, and information while showing consistency in words and actions, communicate often, and align business practices and behaviors. People in executive roles:
Spend the majority of the work day in meetings

Prefer video to voice-only conferencing when not meeting in person

Use multiple devices throughout the workday

Need to be accessible from any location and have the same collaboration functionality regardless of location or device
Contact Center Workers
Forrester Research reports that use of alternative contact channels is growing. Its latest report reveals increases of 25% in community usage, 24% in chat, and 12% in web self-service over the last three years. Real-time access to experts goes a long way toward resolving customer issues more quickly, leading to happier customers and greater loyalty. Contact center agents:
Work onsite from a central call center with others in the same role (or in a completely home-based organization)

Use a central software system to access and update customer account information

Benefit from an ability to identify available experts to resolve customer concerns more quickly

May be seasonal workers based on industry sales patterns

May be doing social media monitoring and response
Deskless Workers
Most business applications are designed for information workers first. But what about people who don't spend the workday tethered to a mouse and keyboard, but are moving throughout a facility? Consider healthcare, manufacturing, retail, hospitality, security, facilities, and service professions. Virtual desktop functionality provides employees access to their own information and applications, while keeping it within the company's secure systems. Deskless workers:
Spend most of the day on the move within the campus or facility

Use shared workstations to review schedules, access information, or handle email

Need to communicate in real time throughout the day

Easily locate experts and use tools that allow interactive collaboration

Have to access inventory information, company directories, and more
At the End of the Day…
Finding ways to improve the connections between people and the information they need to share is at the center of improving collaboration. In any given day, people collaborate irrespective of the little boxes on the org chart. Providing solutions is not about providing the tools for different roles, but enabling the connections across roles, organizational boundaries, and devices.
The basic ways in which we interact are essentially the same. Enabling the same types of interaction on multiple devices removes restrictions and complexity, allowing you to focus on what you're doing and with whom you're working, rather than the tools you're using to do it.
Explore different ways to address key business goals with collaboration use cases.
You must be a registered user to add a comment. If you've already registered, sign in. Otherwise, register and sign in.