Cisco Employee
Mark as New

Mark as Read

Bookmark

Subscribe

Email to a Friend
First impressions matter. Whether you're trying to get a job, make a sale, or go on a second date, you know that the first things you do and say are critical. Studies say you have between 2 seconds and 2 minutes to make a first impression. When you download a new app for your tablet or phone, how much time does it have to make its first impression on you?
When IT departments make technology decisions, the path to end-user adoption is a key concern. The relative ease or difficulty of setting up and maintaining the back-end infrastructure or cloud service is one thing, but the means by which end users first experience the solution and get started using it is perhaps even more important.
IT needs products that are easy to roll out and that provide end users — their customers — with a delightful first impression. That's why Cisco considers not just the end user experience and the IT administrator experience, but the places where they intersect, such as in the deployment of solutions to a large end-user community.
A tangible example of this attention to experience is Cisco Jabber for iPad. Jabber for iPad provides a world-class collaboration experience, unifying presence, instant messaging (IM), voice, video, voice messaging, desktop sharing, and conferencing.
Cisco Jabber for iPad 9.2, now available in the iTunes App Store, makes a great impression from the very start when users launch it: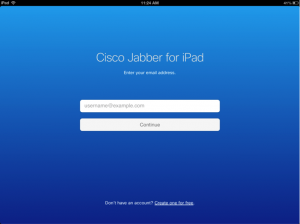 This easy first-time setup experience leverages intelligent, configurable service discovery to automatically connect the user to their services so they can focus on getting their work done. Users simply enter their email address, hit "Continue", and are then prompted for any needed credentials. IT maintains the flexibility to centrally customize which services users connect to.
Additionally, the same back-end configuration will enable automatic service discovery on Jabber for Windows, further reducing the burden on administrators when rolling out a complete Jabber solution across devices and operating systems.
By making a great first impression and then continuing to deliver a superior user experience, Cisco helps users spend their valuable time being more productive and innovative while IT departments benefit from simplified deployment and increased adoption.
Jon
[Original Post on the cisco.com blog]
You must be a registered user to add a comment. If you've already registered, sign in. Otherwise, register and sign in.