edited on:

‎03-12-2019

‎09:44 AM
Introduction
Cisco Jabber for iPhone provides users with VoIP calling, visual voicemail, and access to the corporate directory from an iOS device. You can place and receive VOIP calls from your corporate phone number through Cisco Unified Communications Manager (CUCM) using your iPhone. Cisco Jabber for iPhone runs in the background and is connected to the network. This document covers the Installation, Configuration procedures for Cisco Jabber 8.6 on CUCM for iPhones.
Cisco Jabber 8.6 Requirements
Highlighting the requirements for Cisco Jabber 8.6, make sure you meet the requirements before you attempt for the configuration.
Apple iOS 5.0 or later running on an Apple iPhone 3GS, 4, or 4S, Apple iPod touch third or fourth generation, or Apple iPad (1 or 2) is required for Cisco Jabber 8.6.
Cisco Unified Communications Manager 7.1.5, 8.0.3, 8.5, and 8.6.2 starting with 8.6(2.21008-1)
Cisco Unity Connection Release 7.x, 8.0, or 8.5
For the Cisco AnyConnect VPN solution, the following are required: Cisco Adaptive Security Appliance Release 8.2.3.6, 8.3.2.7, and 8.4.
Requirements for Users and Devices: iPhone model 3GS, 4 and 4S, iPod Touch 3rd or 4th Generation (3rd Generation requires an external microphone for calls), iPad, iPad 2
iOS minimum version 5.0
The Release note covering the requirements:
http://www.cisco.com/en/US/partner/docs/voice_ip_comm/jabber/iPhone/8.6/b_jabber_iphone_release_notes.html
Video: Registering Cisco Jabber for iPhone with CUCM 9.1
The Complete Recording of this Registration process can be accessed here.
Installation & Device Configuration
Download the required COP Files
Required Files for running Cisco Jabber 8.6 with CUCM 8.5:
Download the COP file for CUCM

1. For CUCM 8.5 and earlier the Cisco Options Package (COP) file required to make Application Dial Rules available to Cisco Jabber
http://www.cisco.com/cisco/software/release.html?mdfid=282588075&softwareid=282764070&release=8.0(3)&relind=AVAILABLE&rellifecycle=&reltype=latest&i=rp
Locate and download cucimoc-Admin-ffr-8-0-3.zip
Download the Device COP file
2. The Device COP file:
http://www.cisco.com/cisco/software/release.html?mdfid=283760466&catid=278875240&softwareid=284006014&release=8.6(1)&relind=AVAILABLE&rellifecycle=&reltype=latest

Locate and download cmterm-iphone-install-111019.cop.sgn.
Cisco Jabber application for your iphone
3. Cisco Jabber application for your iPhone device
http://itunes.apple.com/us/app/cisco-mobile-8.1/id407180698?mt=8
Configuration steps
Install COP file for devices
In order to make Jabber available as a device in CUCM, you must install a device-specific COP file on all your CUCM servers.
1. Install Cisco Options Package file for devices
CUCM -> OS Administration -> Software Upgrades -> Install/Upgrade -> cmterm-iphone-install-111019.cop.sgn -> Install and then reboot the
server.
Repeat the same for each subscriber.
*************************************************************************************************
Procedure
--------------------------------------------------------------------------------
Step 1 Download the device COP file.

Step 2 Place the COP file on an FTP or SFTP server that is accessible from your Unified CM servers.
Step 3 Install this COP file on the Publisher server in your Unified CM cluster:
a.From the Navigation list box in the top-right corner of the Unified CM Administration portal,
choose Cisco Unified OS Administration and select Go.
b.Select Software Upgrades > Install/Upgrade.
c.Specify the location of the COP file and provide the required information.
For more information, see the online help.
d.Select Next.
e.Select the device COP file.
f.Select Next.
g.Follow the instructions on the screen.
h.Select Next.
Wait for the process to be completed. This process may take some time.
i.Reboot Unified CM at a time of low usage.
j.Restart the Cisco Tomcat service on the Unified CM server.
This step is required for the device icon to display properly on the device list page in Unified CM.
This step clears the Tomcat image cache.
k.Enter the following command from the CLI:
utils service restart Cisco Tomcat
l.Let the system fully return to service.
Note To avoid interruptions in service, make sure each server has returned to active service before you
perform this procedure on another server.

Step 4 Install the COP file on each Subscriber server in the cluster. Use the same process you used
for the Publisher,including rebooting the server.
*****************************************************************************************************
For detailed configuration of the device, the following document covers all that you need:
Installation & Configuration guide_Cisco Jabber/iPhone_8.6
2. Verify whether you need specific dial rules for the application. If so,
follow the Dial Rule section of the document:
Cisco Jabber/iPhone_Application dial rules
3. Increase the SIP Dual Mode Alert Timer value:
CM Administration -> System > Service Parameters -> [Server] Cisco CallManager (Active) -> Increase the SIP Dual Mode Alert Time to
3000 milliseconds -> Save
4. Create a dedicated SIP profile:
CM Administration -> Device -> Device Settings -> SIP Profile -> Add New -> "iPhone SIP profile" -> set the following values to 660
and press Save
* Timer Register Expires
* Timer Keep Alive Expires
* Timer Subscribe Expires
CM Administration -> Device -> Cisco Dual Mode for iPhone -> Add New ->
TCT<name>
For the remaining parameters, see the following link, and press Save:
6. Add the Line to the phone and Associate the Device with the End User.
7. Launch the App on the iPhone and confirm it is working.
8. Add additional features depending on your requirements, refer the following
Cisco Mobile Compatibility and Support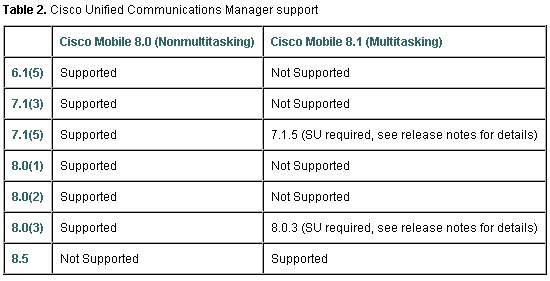 Additional documents for your reference
Product Page on Cisco Jabber for iPhone:
http://www.cisco.com/en/US/products/ps11596/index.html
The Data Sheet covering the supported Features:
http://www.cisco.com/en/US/prod/collateral/voicesw/ps6789/ps7290/ps11156/data_sheet_c78-658146.html
Cisco Jabber Troubleshooting guide:
http://www.cisco.com/en/US/partner/docs/voice_ip_comm/jabber/iPhone/8.6/JABI_BK_J29330BB_00_jabber-for-iphone-admin-guide_chapter_0100.html
FAQ
http://www.cisco.com/en/US/partner/docs/voice_ip_comm/jabber/iPhone/8.6/b_Cisco_Jabber_8.html#reference_E901FA7B7BAE4D8FA94ADFB10BF97D45
Related Information