Beginner
Mark as New

Mark as Read

Bookmark

Subscribe

Email to a Friend
End users in Thailand share their views…
Conrad Hotel, Bangkok played host to the 2012 Asia Pacific IDC CIO summit with over 100 delegates from some of Thailand's leading institutions, such as CIMB, PTT and The Customs Department. Cisco's booth was prominently located at the entry to the main speaker hall and next to the all-important coffee station which helped drive interest to its cutting edge collaboration set up – from high end immersive and desktop video to Jabber video with iPad.
The summit kicked off with a keynote from IDC who spoke of the opportunities and challenges that face emerging economies such as Thailand, headwinds that exist in the global economy and how businesses now need to make a shift from cost only focus to gaining competitive advantage, an area where technology can have an impact. Challenges traditionally seen as the realm of developed economies are now being faced by developing economies. For instance, managing employment vacancies and recruitment times. In Thailand, filling a professional vacancy can take over 6 weeks compared to 2 weeks in Singapore.
Cloud, Mobile, Social and Big Data, were stated as the four ICT pillars that IT managers are investing in. Meanwhile lines of business owners are asking for Collaboration tools and are interested in applications that help them compete. Now over a third of business leaders surveyed by IDC no longer go to the IT department for these requests but direct to vendors or suppliers, offering SaaS. Top business priorities are, New Customers, Cost Reduction, Competitive Edge and Customer Loyalty.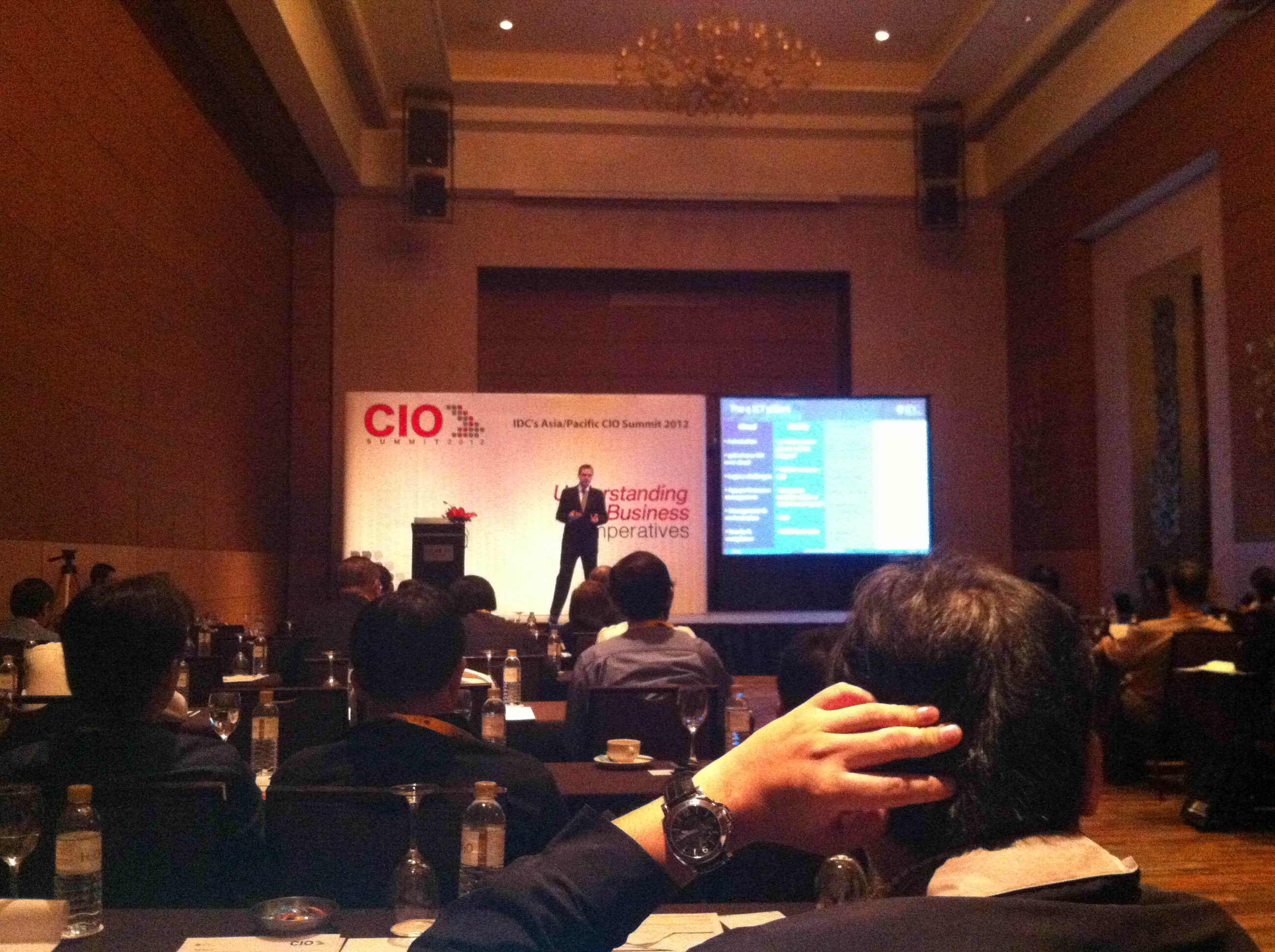 Mobility, flexibility of deployment, Citrix outlined IT in an uncertain macro economy. Will we survive? I am no longer sure. Palo Alto Networks presented on securing your company in this brave new world and assured us that it would in fact all be alright.
Morning tea saw another flood of delegates to the Cisco booth, both existing and new customers came to understand how video and collaboration can improve their organisation. In a sign of the changing times, Samsung was there with a stand, not selling a PBX but instead its "productivity enhancing collaboration tools," the Galaxy III and its latest tablet.
Lunch provided a good opportunity to sit down with various delegates and talk about the morning's session, understand the challenges and opportunities they see within their organisation. Almost unanimously the changing face of enterprise IT meant delivering more relevant tools to their business base. Business increasingly was looking to IT departments as a source of competitive advantage. Though after lunch with full bellies and a car park stamp the crowd did start to thin. One lesson to take away for presenters -- present before lunch!
In the afternoon, we heard valuable and positive feedback from the Cisco session which focused on pervasive video and a discussion on what makes it transformative. Collaboration was seen by delegates to be one of the most important tools for their companies, but one of the hardest to quantify. A panel discussion followed and after some prompting and questions from the moderator, the crowd began to move and discuss issues such as how to measure the business impact of video.
Feedback from attendees was that Video & immersive video such as TelePresence still had limited deployment within Thai companies. Commonly, large room scale TelePresence was deployed for senior executives and board members, who used it for their meetings.
Familiarity with video at this senior level was starting to have a trickle-down effect and influencing other sections of companies over time. Similarly, there were niche (yet growing) deployments of video software solutions.
While there was a growing interest by companies looking to understand how to deploy video furtherinside the organisation, there was special interest into how to deploy video outside the organisation with other collaboration tools to communicate with customers and suppliers.
The audience and speakers concluded that it is this requirement, the need to communicate with customers, that will be the biggest driver in making video pervasive.
***
Ben Vella is regional sales manager APJC for business video at Cisco. He attended the IDC CIO Summit in Thailand and despite speaking after lunch, spoke to a full room of CIO level delegates.Viewhis presentation, visit or connect with him on Twitter - https://twitter.com/benvella.
Presentation link: http://www.slideshare.net/ciscoanz/enabling-business-transformation-with-video
You must be a registered user to add a comment. If you've already registered, sign in. Otherwise, register and sign in.