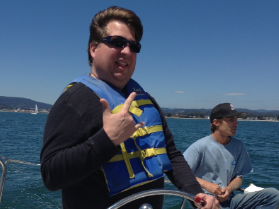 Contributor
Mark as New

Mark as Read

Bookmark

Subscribe

Email to a Friend
Consider your enterprise communication strategy. Now consider the role of video in that strategy. Is video critical, best effort, nice to have, or outside the scope of your communication strategy? The use of video in business extends well beyond videoconferencing and presents itself in many forms. Each of these forms represents a different aspect of business video and with that different use cases:
Real-time Video Communications: two or more people (interactive) using any form of video-enabled endpoints from the immersive telepresence system to the desktop/laptop webcam and everything in-between to communicate.
Live Broadcast Video Communications: the broadcast (push) of a live video feed to multiple recipients.
Video on Demand (VoD): videos that are stored in a central repository and requested (pull) by users.
Business video is used both internally and externally to effectively communicate with employees, partners, and customers. Most (if not all) companies are using Video on Demand for training purposes. Interestingly, when asked the question "Does Business Video Quality Really Matter?" the answer changed depending on the size of the company. Larger companies were more focused on the quality of the video content and smaller companies were more focused on ease of use. It's not just a matter of viewing video content, but also creating videos and making them available to others.
If we look at both large Enterprise Communications Trends for 2012 and The Top 5 Small Business Trends for 2012 we see that video is becoming more and more important as basic communication methods give way to advanced rich-media communications. There is a convergence of voice and video occurring today. If you think about a phone call made today, you can do a voice call without video as part of it. However, if you're going to do video, you really can't have video without audio in any of the three forms mentioned before. With any video call- audio is expected, it is not an option.
What's more, if we look at the 2012 Top Ten Business Trends and the Top 10 Marketing Trends of 2012 we see not only more use of business video directly, but also more use of mobile and social environments that have video capabilities. In other words, as companies use social and mobile vehicles to reach their audiences, video is expected and in some cases preferred. Why? Because the user experience of reading text in webpages or application is subpar to the experience of watching and listening to a video on that same small screen. Not only is video converging with voice, or for that matter becoming the new voice, but video is also converging with mobile and social platforms. The Cisco Visual Networking Index: Global Mobile Data Traffic Forecast Update, 2011–2016 clearly show the trends of growth for global mobile video. Growth is expected as video becomes more pervasive and continues converging with voice, social and mobile platforms.
Now, consider your enterprise communication strategy again. When you consider the role video plays in your communication strategy think about how you can employ video to improve your company productivity, increase your company growth, or become more innovative and drive a higher level of customer satisfaction. Consider how Pulse reveals the secrets of the universe enabling video to be searched just as easily as text is today. What processes would be improved by being video-enabled? Who are the stakeholders and beneficiaries of video-enabled business processes? As you work with them on your enterprise communications strategy, you'll gain new insight on the future of business video.
You must be a registered user to add a comment. If you've already registered, sign in. Otherwise, register and sign in.