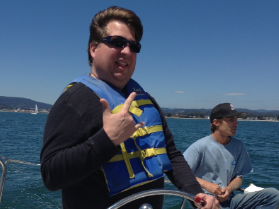 Contributor
Mark as New

Mark as Read

Bookmark

Subscribe

Email to a Friend
Here at Cisco we have a tradition of "eating our own dog food" or "sipping our own champagne", I guess the metaphor of choice depends on how good the final product is perceived. No matter what, ensuring adoption of a new technology in your enterprise can be a daunting task. The question is how do you socialize new technology and drive the adoption of that technology most effectively within your company? This is especially important when entering the alpha and beta stages of an enterprise technology deployment. After all, when else will you have a captive group of users with the job of testing, breaking and fixing the software you're preparing to roll into production?
The first thing you'll do when preparing for a new technology rollout is build a base of beta users. This requires advertising the beta, desired candidate requirements, and expectations for participating in the beta program. I participate in a number of beta programs for various products. The best method I've seen for managing a beta program involved a combination of communication methods, but at the center was a community that became the hub for the participants, trouble-tickets, and general feedback on the product(s). It's important to limit the number of users in a beta program, but you must also have the right sample of users that provide different levels of expertise and different business functions. Use existing corporate communications such as e-mail, Intranet, etc. to advertise, but then associate the participants into a common community that will then be used to collect and display details during the program.
This approach allows for the collecting and building of knowledge as it relates to the product. For example, while beta testing both the Cisco Cius and Cisco Jabber, if an error was detected an error reporting tool would automatically collect relevant data, prompt me for additional information (such as what I was doing at the time of the crash) and then send the error report to the community where it would automatically be opened as a post. As a post the content was visible to me and other community members, troubleshooting steps were added as the engineer worked on a resolution, and I could add updates with more information directly to the post. I'm also able to post general feedback on the product I'm testing, view other opinions and comment on them. By tearing down the artificial silos created by closed trouble ticketing systems and methods such as e-mail to communicate, we aren't just beta testing new technology, we are building a knowledge base that provides great value when the technology is released mainstream.
Since many new technologies run in parallel to existing technologies with the same functionality, encouraging existing users to stop using what they're comfortable with and switch to something different is often a difficult challenge. By opening up the beta community to the larger corporate audience, they are now able to see the level of effort that has gone into the new technology roll-out. They can see how long the program has been running, general feedback on the positives and negatives of the technology and view all the trouble tickets and fixes to faster resolve repeat issues they may have. In other words, we're creating a new level of transparency that instills confidence in users before and during their transition to the new technology.
Executives using the same new technologies and leading by example should post their experiences in a way that encourages employees to move to the new technology. IT should also frequently communicate the timeline of when the older technology will effectively be shutdown and point users to the community for information on making the transition. Socializing the migration to a new technology will require different vehicles of outbound communications such as: e-mail, voicemail, Intranet, team meetings and more. These vehicles should point all users to a central community that is open and continues to grow in the knowledge base it provides to early and late adopters. It's not easy adopting new technologies within an enterprise, but socializing experiences and setting expectations in a transparent fashion will help the effort in tremendous ways.
Let us know how you're socializing the adoption of technology in your organization. What's working for you and where do you see challenges? Are those challenges technical or cultural?
You must be a registered user to add a comment. If you've already registered, sign in. Otherwise, register and sign in.