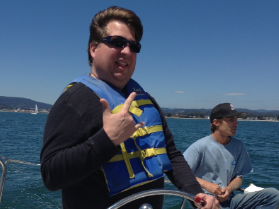 Contributor
Mark as New

Mark as Read

Bookmark

Subscribe

Email to a Friend
In response to my previous post Does the New Workspace Mean We Collaborate Better? the following tweet was received from BigTaskWeekend "How do u make sure ur answer is yes? RT". Therein lies the challenge. The new workspace is about accessibility, accessibility to enterprise applications that enable greater productivity from your choice of device, regardless of location. Many of these applications are going to be collaborative in nature, such as enterprise social software. (Visit the Cisco Enterprise Social Software community for more information and to participate.) Other applications will have no direct collaborative properties at all, such as updating your profile. Finally, there will be applications that do not require collaboration unless there's an exception, for example a sales order entry application that requires multiple groups (sales, finance, legal, and the customer) to complete because of a non-standard deal. This poses two key questions for success: why collaborate and when to collaborate. Let's look at these two questions in more detail.
We collaborate to define and reach a goal. The goal must be compelling and unifying across organizations. My previous blog on The Business of Technology and What Technology Means for Business talks about business drivers for technology investments and interestingly enough they are the same drivers for successful collaboration. Although they may be worded differently the meaning is the same- will the results of a collaborative session lead to results that:
Grow the business (positive ROI)

Increase productivity (reduce TCO)
Provide a new or enhanced experience (innovate)
We collaborate when an event drives the need for people to work together to achieve a result. The most common event being external pressures from competitors, customers and market conditions. We often hear familiar statements that some may consider unifying goals such as "grab market share", "do more with less", and "the next killer app". None of these examples are good examples of what a goal should be. We collaborate when the goal is properly defined and unifying across different groups in an organization. This responsibility lies with the leadership team. Not only must the leadership team manage their own group, but they must also demonstrate teamwork across groups to define goals that create a cooperative nature and encourage results-oriented collaboration.
Now that we know why and when to collaborate, the final step is how. There are a lot of tools available that enable collaboration: e-mail, documents, presentations, instant messaging, wiki, blog, voice mail, video and more. In my blog Technology, Culture and Process- Which is Most Important to Collaboration? I discuss three pillars of collaboration. These three pillars enable those focused on achieving a unifying goal to establish, build and participate in a nimble and effective network that overcomes the four barriers to successful collaboration discussed in Does the New Workspace Mean We Collaborate Better. Ultimately, the new workspace is a virtual environment that enables sharing of any format from text to video to be delivered among any set of devices from a back-end server to mobile and across any platform, while providing accessibility to people, information and communities in a social context. Defining goals and demonstrating collaborative teamwork within and across departments is the responsibility of the leadership teams and the key to driving a culture of participation.
Let me know your thoughts on the new workspace and how to better collaborate. You can also follow Ciscocollab on Twitter for more information or to post a response.
1 Comment
You must be a registered user to add a comment. If you've already registered, sign in. Otherwise, register and sign in.