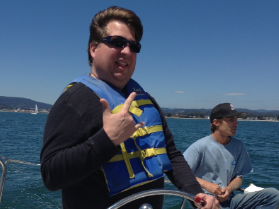 Contributor
Mark as New

Mark as Read

Bookmark

Subscribe

Email to a Friend
I've been doing a number of presentations on collaboration in the San Jose Cisco Executive Briefing Center (EBC) lately and in case you're not familiar with an EBC it is in my opinion one of the best venues for collaboration between customers and Cisco experts. During a Cisco EBC the customer works with their account manager to drive an agenda that delivers maximum value and in many cases the agenda is not just about technology, but also to identify current and future business needs for discussion.
In the past, many EBC agendas lumped communications and collaboration into a single topic. Today, I'm seeing these broken apart with customers specifically asking for a presentation on Unified Communications and a presentation on Collaboration. The difference is quite significant as collaboration is what people do and Unified Communications is how people collaborate. To that end, there is no magic SKU for collaboration. Collaboration is comprised of process, culture and technology.
As I speak with customers about collaboration it's not usually a question of investing in technology, but rather a challenge of too much technology that's already been invested in and how to integrate these various technologies to provide a seamless experience for the users. Another interesting point is much of what the users experience in their personal lives are not available in their professional lives, or not available in a way they want to consume them. So while the underlying technology is the same the experience is different and often deemed not adequate. Corporate restrictions can also affect the user experience.
While most companies have wiki, blog, text, IM, and other communication tools, users aren't taking advantage of them because they prefer how these tools operate in existing, public websites, or they don't want to learn or don't see the value in using these new tools when existing modes of communications work fine. In other words the old adages of "If it ain't broke, don't fix it.", "This is the way it's always been done." and "The grass is always greener on the other side." play a part in a cultural barrier to adoption. There's the other end of the cultural spectrum that may post sensitive corporate data to social networking sites like Facebook, LinkedIn, Twitter, and YouTube, not with the intent of being malicious, but because it's the way they share information today and they have a culture of sharing.
Technology has a high rate of change that's usually focused on addressing specific needs, while a change in culture occurs less often, but is massive in size. Each of these entities ebb and flow at different rates and sizes with process being the resonant frequency, as it were, that synchronizes both to deliver greater value. Referring to my previous blog topic "The Business of Technology and What Technology Means for Business" I call out three metrics for success: growth, experience and productivity. It's process that enables your business to deliver against these metrics in a scalable way.
In the end, all three are equally important as they operate in a symbiotic fashion with each having a dependency on the others. New and streamlined business processes drive the corporate culture with workflows to adopt new technologies which in turn enable new business processes. In the end, enabling effective collaboration becomes an act of juggling priorities for technology, culture and process based on company goals, emerging technologies and changes in the workforce. What's that magic collaboration SKU again?
You must be a registered user to add a comment. If you've already registered, sign in. Otherwise, register and sign in.