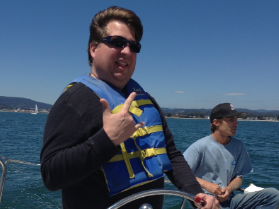 Contributor
Mark as New

Mark as Read

Bookmark

Subscribe

Email to a Friend
At Cisco we talk a lot about innovation and what the future may look like when it comes to business and the technology that supports it. Upper management has challenged us to come up with forward-looking, futuristic and thought provoking descriptions of the way we could work and interact with each other. I spend a lot of my time thinking about how to improve and transform business, how to collaborate more effectively, and how to architect a holistic system with all the cool new and tried-true technologies out there. With that, I'd like to present the following white paper: "How Presence Can Enhance Connectivity and Collaboration" for your review and comment.
This paper begins with a definition of presence and a rather broad definition as presence extends from human interactions to non-human interactions. If you disagree with this definition, let me know why. We then see a history of presence that begins with telegraph operators and their "fists", which goes on to provide context into the need for a broader definition of presence. This leads to a detailed, futuristic "Day in the life..." scenario that follows Lou from waking up through the first half of his day to lunch time (and what's wrong with meatloaf?). This scenario presents use cases for presence and technologies that may not exist today, but may not be far off. Quite frankly, these technologies and applications may even be closer then we imagine. Finally, we see an analysis and discussion of the scenario with details on the capabilities, mechanisms and policies that enable the different aspects of said scenario, which should lead to some interesting discussions.
As I socialized this paper within Cisco a few things became apparent- presence can be a huge factor in the way we collaborate professionally and personally and there are many different streams of presence. There's an informative interview I did with Joe Hildebrand as a result of this paper on the future of presence that is well worth the 20 minutes it takes to watch and goes into additional details on the role presence plays in collaboration and the importance of standards. Another great conversation was with Mike Gotta about the different streams of presence, such as activity in information streams so that you can find an expert based on their activity (presence) in blogs, wikis, discussion groups, etc.- all the different social networking tools that are available today. These conversations lead me to think of new ways for businesses to operate such as just-in-time org charts for virtual teams, short term projects and more, but that's a topic for another blog.
****** Background Information about the Collaboration Architecture Blog Series ******
This blog is part of the Collaboration Architecture Blog series. View all posts in this series.
Posts to the Collaboration Architecture Blog are made at least once a month. Subscribe via RSS feed so you don't miss the next one.
You must be a registered user to add a comment. If you've already registered, sign in. Otherwise, register and sign in.