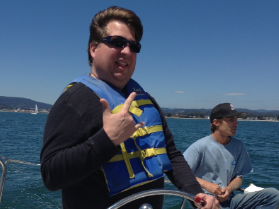 Contributor
Mark as New

Mark as Read

Bookmark

Subscribe

Email to a Friend
Today we had a department gift exchange. Your first thought may be "Why?", but it was a great way to take a break from the after holiday ramp-up we've all been experiencing. Also, since this was a white elephant gift exchange it was a great way to clear out one piece of clutter while getting something to immediately take its' place. What struck me about the gift exchange was the experience and seamless it was across locations. In San Jose we gathered (about 35 people) into a large Telepresence room. There were a number of other Telepresence attendees from cities such as; Boulder, Boxborough, San Francisco, and Austin. There were also people joining in from their office desk or home office in other locations. These people were using high-quality video over WebEx and it was integrated with our Telepresence sessions. Furthermore, there were people in each Telepresence room with laptops that were connected into the session so everybody could watch the unwrapping of the gifts from up close and decide if they were going to steal or go for something new.
Everybody took an hour out of thier day to enjoy this experience. We laughed at the different gifts. I myself received an awesome set of "ShamWow!" towels coming my way from our Austin office. The thing about this experience is the way everybody was able to participate and it felt like we were all in the room together. You could see the size of the package and how well wrapped they were or weren't before making your pick. You could watch and hear the paper being ripped open along with the crowd response and comments from the peanut gallery. You could then see what it was and decide if it was going to be stolen. One guy in Boulder had the eye and his picks were stolen 6 times before we agreed to give him immunity. The only thing I couldn't understand was that not a single chia pet was in the mix!
There's a lot of talk in rest and recreation circles about the experience- the hotel experience, the spa experience, the cruise ship experience and the safari experience. When it comes to the workspace we tend to talk about the end-point experience- new laptop is fast, new Blackberry doesn't drop calls, new video phone is cool, and new expense reporting tool is easy and fast. This experience was not about the end-point, we had people using Telepresence, PCs, Macs, built-in and add-on cameras, there was even one person attending on their mobile as they were on their way to a customer meeting. Regardless of anybody's location or end device the experience was one of comaraderie and fun. The ability to bring people together to share the same experience is what the new workspace is about- even when it's all play.
24 Comments
You must be a registered user to add a comment. If you've already registered, sign in. Otherwise, register and sign in.