edited on:

‎09-14-2011

‎01:11 AM
Tips on Windows 2008 Server Network Configuration (ICM Staging)
1. To change the network binding on windows 2008 Server
Go to Control Panel ---> View network status and tasks ---> change Adaptor Settings ---> Press Alt (and release)

--> on the file menu click advanced and select Advanced Settings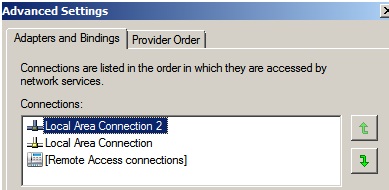 ---> SetAppropriate adaptor Binding
2. Since the server is connecting to the domain controller via the "ICM Visible" network, this will be identified by the W2k8 server as the domain network
3. The W2k8 server identifies the "ICM Private" network as the unidentified network so categorize it as the win2k8 Public Network

4. Cannot ping the peer "ICM Visible" network
Go to Control Panel ---> check firewall status ---> Advanced settings ---> in inbound ---> enable "File and Printer Sharing echo request – icmpv4-in"
5. Cannot ping the peer "ICM Private" network
By default the "ICM Private network" would be categorised as "windows public network" so it will not have the firewall setting benefits.
Go to Control Panel ---> View network status and tasks ---> change Adaptor Settings and select the appropriate network card properties and go to TCP/IPv4 , advanced and DNS tab, enter the "DNS suffix for this connection" as the FQN of the domain.
Now you would see the "ICM Private Network" as below.

You click on the "public network" hyperlink marked above, it will give the option to change the network location as below and you can select the network as home or work network and it will force the" ICM private Network" to be the "Microsoft private network" and allow access and apply appropriate firewall settings.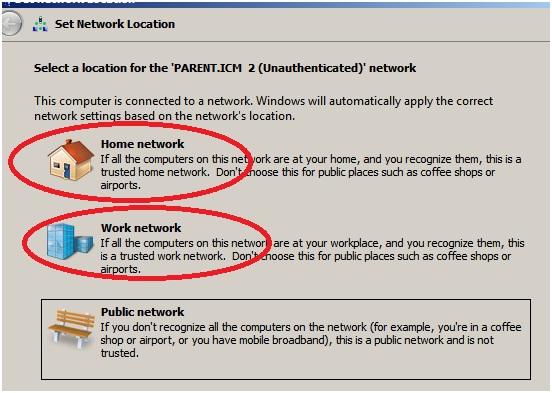 *Now the other way round is disable all firewall and security feature on windows 2008.